Fulham 1-5 Arsenal 
PREMIER LEAGUE REVIEW
Today was always going to be tough, considering our trip to Azerbaijan, and then an early kick-off albeit in London and not far away.
However, today was sexy football. Yes, Fulham is a promoted side, which whilst with much historic PL experience, may go down again this season.
But the level of passing was expert, and in some ways, the spirit of the late 1990/early 2000s Arsenal came back to the fore.
This is football that Henry, Bergkamp, Vieira, Ljungberg, Kanu, Pires, Overmars, etc. would have revelled in.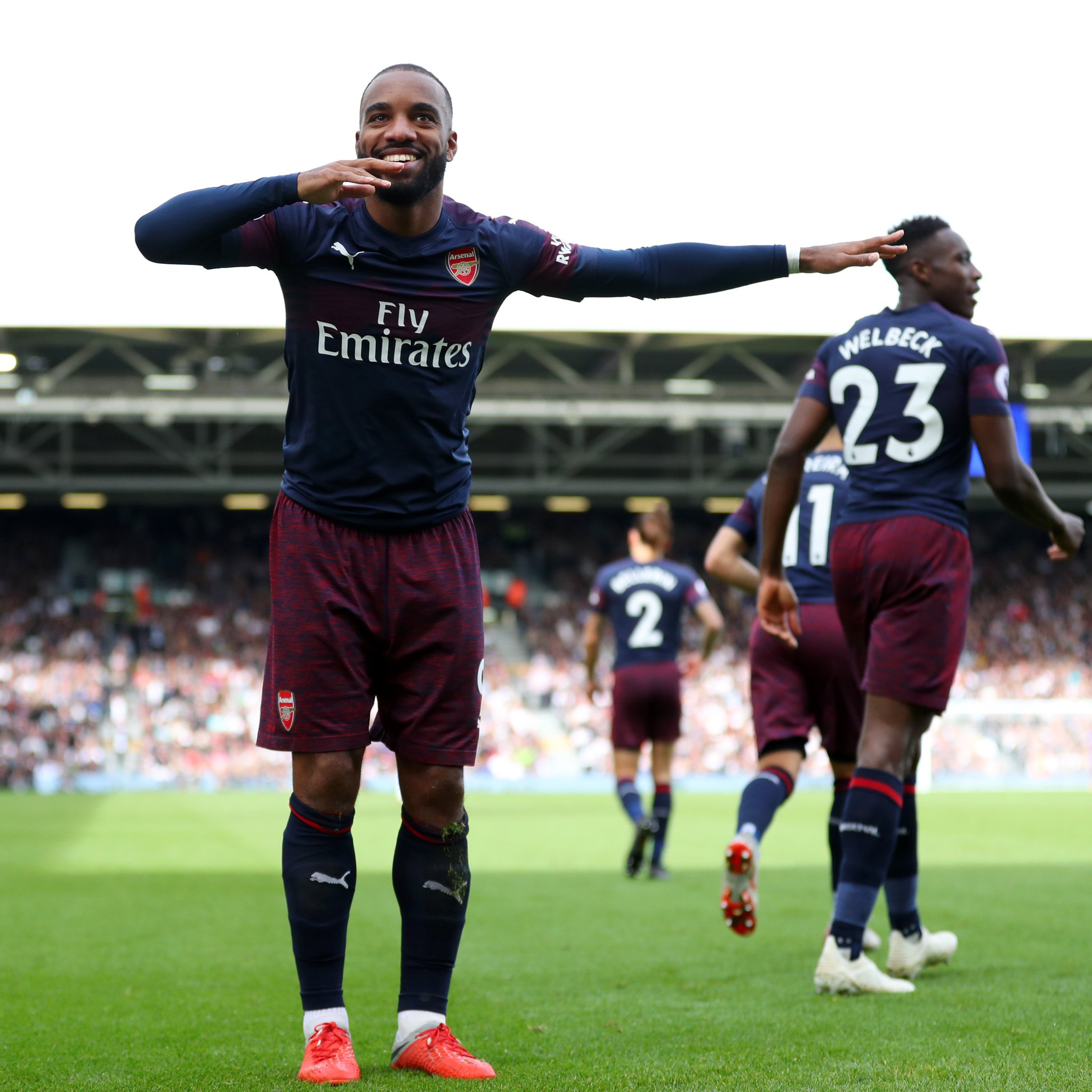 Aubameyang was injured, and Mkhitaryan and Iwobi started out wide. Laca was up with Danny Welbeck,
However, Fulham was looking to exploit our defensive issues and was pressing us high up the pitch. They didn't get many chances though, however, it was evident and in some ways predictable game-plan.
And we managed it well. Holding and Mustafi kept top-scorer Mitrovic quiet, and we headed away some good clearances.
After this, roughly 20 minutes in, we got forward and the pace and skill of Iwobi told well on our left and led to a few half-chances via Lacazette and Welbeck. Laca did score eventually, after 28 minutes, with another forward left run by Iwobi, leading to Monreal crossing low, and Laca turning and scoring in the area.
We looked comfortable until they equalised, which stemmed from a defensive error by Monreal. He misplaced a pass, which Schurrle pounced on and chipped over Leno.
The second half started with Fulham pressing again, but not with many results. We regained the lead via another well-technically executed goal by Laca, as from 25 yards, he swivelled and scored.
Despite the contract retraction, Ramsey got a wonder goal, which was in part due to wonderful interplay featuring him, Mkhi, Laca, and Torreira.
The fourth came via Aubameyang, who came on as a substitute, and his goal was similar in form to Laca's first, which was a swivel akin to our first strike. We weathered some crosses from Fulham, but the fifth came from Auba again, as he latched on to a through ball and slotted him excellently.
Impressions/player ratings
This was a superlative performance and our best of the season. Defensively, the only negative was Monreal's wayward pass, leading to Schurrle's goal. It's evident that playing from the back is something we're still acquiring and digesting. There were some other misplaced balls, which had little effects in truth. Nonetheless, the defence overall was very strong, and Holding and Mustafi managed their forwards very well. The goal we conceded wasn't their fault at all.
Our attitude was strong too and unlike the latter Wenger years. Physically, Fulham was looking to match us and outdo us, but we didn't permit them this. If anything, this is why we won the game, along with our superior attacking presence. Torreira, Laca, Mustafi, and Xhaka, all went down with knocks, but in part, because they were looking to rough us up. And it was encouraging that we didn't fold, and rose above it.
Leno did capably in goal, as he made a good save early in the match, and was throughout the game not tremendously troubled by Mitrovic and the other attackers.
As for the forwards, Laca and Iwobi stood out here. Iwobi is exhibiting a strict contrast between this and last season. He looks different, in that he's bulkier and more muscular, but his ball control, dribbling ability, and options on the ball have enhanced. His uncle, Jay-Jay Okocha, would have been proud of this, and it was reminiscent of the play he espoused at Bolton and PSG.
Laca too had a stellar game. His goals were well-executed, and he held the ball up well and looked to trouble their defence continuously.
Aubameyang too was creative and clinical, and his Golden Boot chase has been restored. Though I won't mind if both he and Laca can have a dual chase. Salah isn't one it thus far, but Hazard is, as is Kane from our good friends and neighbours. They both have strong competition for it from our boys.
As aforementioned, this performance was reminiscent of classic Wenger – in the "winning years". We had the success we did back then due to not just have the best players, but the best attitude, mentality, and melding physicality and creativity. Once Fulham run out of legs and we matched their attempts to rough us up, our superior attacking prowess was pre-eminent.
Top four is on, I believe. We won't challenge for the league, but then it's fine to see that steadily we're improving. The passing from the back has enhanced, and we saw some exceptional individual performances today.
I'm not getting carried away here – Fulham may well go down. It's not as if we beat City or Liverpool, or Spurs, 5-1 away. But today was good since we showed technicality and grit, and some wonder goals to boot.
We're now third in the league, and we've above Tottenham for now. Yes, this alone is not a trophy nor worth celebrating (they've gone a decade without a trophy so they don't know what that's like lately…) But I believe we're slowly but surely reversing the negatives of the latter Wenger era.
Leno – 7
Mustafi – 8
Holding – 8
Monreal – 5
Bellerin – 7
Torreira – 7
Xhaka – 7
Mkhitaryan – 6
Iwobi – 9
Lacazette – 8
Welbeck – 6
Ramsey – 7
Aubameyang – 8
Guendouzi – 5
Man of the Match – Alex Iwobi
I don't know for sure what has changed. Is it better coaching? Or just self-reflection? Either way, he has stepped up this season and is arguably our best player at the moment. He's challenging the strengths of his uncle, for sure.
MarbleHallsTV is an Arsenal social media account on Twitter, Facebook and Youtube. Been a Gooner since the 90s, inspired by Ian Wright, then Bergkamp, Vieira, Henry, Pires, Campbell, Rosicky, Koscielny, Ozil and Sanchez. A digital marketer/entrpreneur by profession, born in UK living in the Americas now.