I'm happy with this game, and our performance in it.
We didn't win, granted. But then Liverpool is a serious team now and is further down the cycle from us in terms of challenging for and winning leagues. They certainly have had better transfer windows than us of late, and have brought in better and bigger players.
This was our first serious test, at least since the City and Chelsea games, but then we were able to get amongst them and challenge them on the pitch.
The line-up was sound, and it was a 433/4231 hybrid as per normal.
The first half was pretty even, and both sides pressed, were direct to their forwards, and had some good chances apiece.
For us specifically, Aubameyang was our chief outlet, and he got in from the left to get some crosses in. He set up some chances for Mkhitaryan and Lacazette early in the first half, and Ozil looked to create when needed.
Torreira and the defence were adept in pressing, and Holding and Mustafi were matching their attack well enough. Liverpool had a goal disallowed for offside, which BT Sport showed was a valid goal. We rode our luck there, and I guess this proves (which some fans genuinely think) that the refereeing fraternity doesn't have a conspiracy against us.
The second half too had evenly split chances, as Bellerin, Lacazette, Aubameyang all held strong opportunities to score. We continued to press, and Ozil also was prominent in making things happen in the final third.
Liverpool took the lead though, through a defensive error by Leno, and Milner managed to slot home from 15 yards and he pounced on the loose ball. But we didn't fold, and we managed to press them harder and got a wicked equaliser via Lacazette. He twisted and turned from a through ball, and curled in at the far post past Allison.
But overall, we managed them, and Klopp didn't manage to get a win against us, given his strong recent record against us. We beat him often when he was at Dortmund, but today whilst he didn't lose this was arguably the strongest Arsenal performance as an English-based manager he's faced.
And a certain Arsenal legend's prediction was wrong…..but I'll expand on this later.
Impressions/player ratings
I'm happy, content, and pleased here. We got a very credible draw, and against a top team who under Klopp has improved a lot.
Liverpool and Arsenal I feel are not just similar teams in make-up and play, but similar clubs in history, attitude, fans' values and current states. We were in a trough under latter Wenger, and they were in a trough under Rodgers and Hodgson. But they've had a few years headstart on us, but in this game we handled them well despite this.
Many were fearful of Salah, Firmino, and Mane's presence, and rightly so. But bar the wrongly ruled offside goal for Mane, I don't think they threatened that much. That said, and without any bias, our forward line (which man for man in my view is as good) was better.
Our pressing game here was impressive, and both teams really were quite direct. Emery did well to isolate Alexander-Arnold with Aubameyang's pace, but Klopp's tactic of Salah receiving long balls didn't work as effectively.
We showed the energy, tempo, and tenacity, as well as the attacking guile, to handle Liverpool, and in some ways, it was similar to the game last season. A draw was fair then, and both sides showed great attacking, poor defending, and great spirit. Today though, I think our overall defending was better, and we played more consistently throughout sans many defensive slips.
As for the Merse, well he had the right to his opinion. And in some ways, he was correct since defensively we had been dodgy. But then we didn't get the hiding he predicted, and in a way, he was probably showing tough love. The fact he's a Chelsea fan since a kid doesn't mean he doesn't want the best for us. Wright (and many happy returns to him as it was his birthday) didn't grow up as a Gooner, but he loves our club. Ditto with Henry. I've read Adams watched West Ham as a kid, and I doubt Cantona followed Man United as a kid either but he's still a legend of that club. In a way, I'm glad we proved the Merse wrong, and I'm sure on Soccer Saturday he will hold his hands up and say such.
So today we stood up when counted, and despite Spurs' win vs. Wolves, I believe this day was good. On this showing, the top four can be ours. Tottenham will still challenge for it, and United may improve, but then this shows a message to all the Premier League that a new Arsenal is developing. The top four trophy may be coming back home.
Leno – 6 – Would have scored higher if it were not for the mistake for their goal. But overall, handled them well.
Bellerin – 8 – Both defensively and offensively was sound, and coped with Salah and Firmino ably.
Holding – 8 – Has been very good since coming into the side, and at his age should be a regular. He could feature for England in the Nations League and coming Euro qualifiers, and why not? I love Kos, but due to his age/lack of pace now, Holding surely should be the first choice along with Sokratis when he returns.
Mustafi – 8 – This fellow is an enigma. He caused a penalty at Palace, but today held one of the best attacks on Earth at bay. Salah was quiet, as was Firmino, and Mane didn't get much action bar the offside goal.
Kolasinac – 7 – Did well on his return, and got forward well akin to Bellerin. Handled their forwards also.
Torreira – 8 – A solid performance again, and is the midfield player we've missed for some time.
Xhaka – 7- With an improved midfield balance, we're seeing the best of him. He with Ramsey or Wilshere last season didn't bring the best out of him, but he's getting more influential in his distribution.
Mkhitaryan – 5 – I think Mkhitaryan is a player with great technical ability, but he hasn't impressed for me this season. He didn't provide much end product, but there is space for him to improve.
Ozil – 7 – He looked to create and linked-up well with the other forwards.
Aubameyang – 7 – Very lively in the opening moments, and caused us them some trying moments in the opening phases.
Lacazette – 7 – My genuine view here is that he didn't perform well over the 90 minutes. He didn't have many chances and wasn't holding the ball up well. But his equaliser was grand, in its finish and initial execution when he received the ball. Both he and PEA can score 20 PL goals alone this season.
Welbeck – 5 – Didn't influence the game much.
Ramsey – 5 – Ditto Welbz
Iwobi – 6 – Looked to bring the ball forward, but not as explosive as in recent games
Man of the match – Rob Holding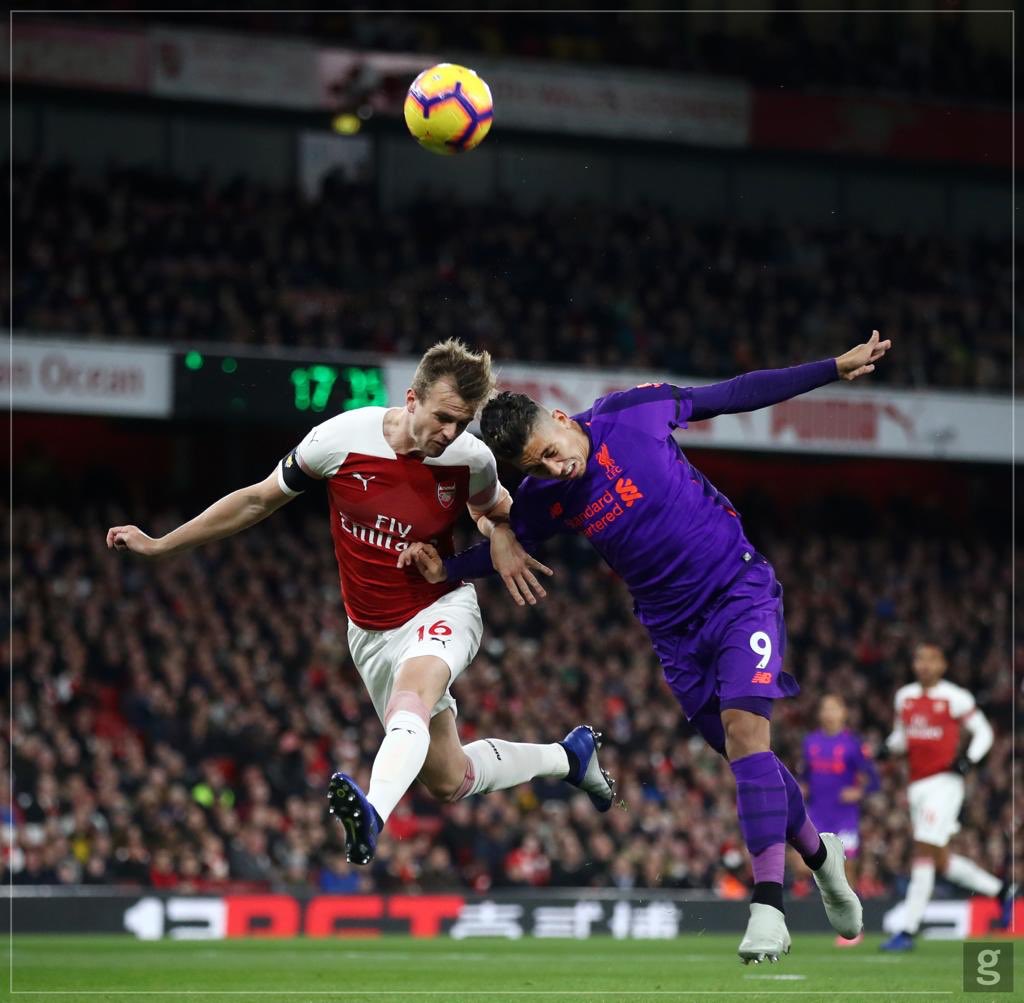 Holding kept a prime attacking line at bay, and bar some errors (handball) vs. Leicester City has looked very strong indeed. Many slate Wenger even though he's left, but he apparently has left us a gem. Holding now should be playing 40 games minimum for us every season, and it should be standard for a player of his age and quality.
MarbleHallsTV is an Arsenal social media account on Twitter, Facebook and Youtube. Been a Gooner since the 90s, inspired by Ian Wright, then Bergkamp, Vieira, Henry, Pires, Campbell, Rosicky, Koscielny, Ozil and Sanchez. A digital marketer/entrpreneur by profession, born in UK living in the Americas now.