Arsenal's sported their new home kit for the first time this season in the 3-2 win over Watford on Sunday. The chevron-laden red and white strip had been launched earlier last week under slightly strange circumstances.
Usually Adidas tend to accompany their kit releases with a customary marketing hastag of #DareToCreate, but this was nowhere to be seen as their latest effort was launched into the twittersphere on Wednesday. The irony of this will not have been lost on Arsenal fans who have largely witnessed a team #ScaredToCreate this season.
Chance creation has been a real issue and no game summed this up more than the 1-0 defeat to Aston Villa, where Arsenal failed to muster a single shot on target. With Mesut Ozil seemingly still in exile – or suffering from a sore back depending on who you chose to believe – we woefully lack a player who can break down the kind of low block Aston Villa defended with last Tuesday.
Mikel Arteta already has a lengthy list of transfer priorities this summer, but if recent performances against lesser opposition are anything to go by, a long-term replacement for the German has to be close to the top of his shopping list.
Two names that have been mooted as potential successors to Arsenal's number 10 are Norwich's Emi Buendia and Bayern Munich's Phillipe Coutinho. Buendia is far too good to stay at Carrow Road now that Daniel Farke's side have been relegated to the Championship and Norwich will likely want to cash in this summer. Barcelona are also looking to offload their record signing after an underwhelming stint at the Nou Camp, and a mixed loan spell at Bayern Munich this season.
In a transfer window where money is set to be tight (again), Arteta cannot afford to make substantial errors, so to help him out let's compare the two.
Chances Created –
Most people who have been watching Arsenal throughout this season will be quick to tell you that the defence has been the real problem this season. When they're finally done agonising over that though, they'd stress that chance creation is not far behind on the list.
It's a miracle that Pierre-Emerick Aubameyang even had a chance of winning the Golden Boot going into the final day of the season, given the scraps he's had to feed off for most it.
Despite achieving the somewhat impressive feat of being dropped by three separate managers in one campaign, Mesut Ozil is still comfortably our top chance creator with 2.3 per 90. He is followed by Nicolas Pepe – who has been in and out of the side as well – with 1.9, while Joe Willock is third with 1.5 per game. It's no surprise then that without a consistent creative force in the team the Gunners have struggled to provide for their front-line.
Conveniently enough for Arsenal though this is where Emi Buendia excels. Despite playing for a side that had just the ninth most possession in the Premier League this season, the Argentine was the division's fourth highest chance creator. He averages 3 per 90 which dwarves the creative output of any of our midfielders.
Coutinho is not even close to this level of productivity and has averaged just 1.1 chances per 90. If Arteta wants someone to feed his chance-starved front three next season then it would seem that Buendia is the man.
Goals –
However, what Coutinho lacks in terms of creation for teammates, he more than makes up for in goals. The Brazilian netted four times against Arsenal in his Liverpool career, including a delicious free kick in our 4-3 defeat to Jurgen Klopp's side on the opening day of the 2016/17 season.
He's kept up that form for Bayern this season. Despite starting just 15 games Coutinho has a highly respectable nine goals in all competitions – including one in Die Roten's 3-1 win over Spurs. Buendia on the other hand has managed to find the net just once this season.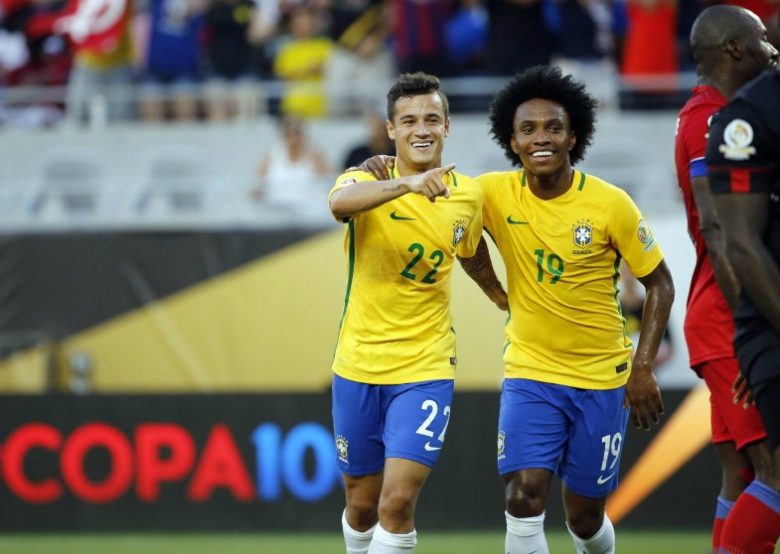 Goals from midfield is something Arsenal have really lacked since Aaron Ramsey was allowed to leave. None of our midfielders have managed more than one goal in the Premier League this season. Mikel Arteta has already publicly stated that he wants to rectify this.
After the 2-0 win against Southampton last month he described what he wants from players in the middle of the park: "They have to be a threat, constantly threatening the box and the final third, assisting, getting chances to score … it's one of the big jobs they have."
This is somewhere where Coutinho would appear to have an obvious edge over his Argentinian counterpart.
Cost –
As ridiculous as it sounds, buying Emi Buendia from relegated Norwich may be beyond Arsenal's financial capabilities this summer.
As the only club to enforce a pay cut on its playing and coaching staff in the wake of COVID-19 our financial struggles are well-known. If we fail to beat Chelsea in the FA Cup final, then reports suggest that we could have no more than £30m to spend on players this summer.
Despite Norwich's relegation Emi Buendia is a player in high demand. With four years still left on his contract its being suggested that Arsenal may need to put up £30m to secure the services of the former Getafe man. Given the priorities Arsenal have in other areas that level of outlay on an individual player seems unlikely if not impossible.
A loan move for Coutinho would probably be less expensive, but it's not exactly a steal. Bayern paid a loan-fee of €8.5 million plus Coutinho's £240,000 per week wages just to secure him for a season from Barcelona. It's unlikely that the Catalans will accept much less this time around.
A loan deal with a view to buy the season after could – on the proviso that Arsenal are able to secure European football – be financially beneficial to both parties. It is likely that the fee next summer could be quite high though, so the club will still end up paying a fair amount in the long run.
Coutinho is probably the better option here in terms of the cost, but there's really not that much to choose between them.
Defence –
Mikel Arteta does not just want creativity and goals from his midfielders though. If that were the case Mesut Ozil would probably still be in the team. What's even more important to Pep Guardiola's former number 2, is that his midfielders work hard to win the ball back as soon as they lose it.
Here it seems that Buendia has Coutinho beat. Norwich's number 17 is an extremely hard worker and has averaged 2.3 tackles per 90 in the Premier League this season. In fact he has the fourth highest tackles from midfield in the division this year, which is made even more impressive when you factor in that the other players in the top five of that list are all defensive midfielders (Joao Moutinho, Wilfried Ndidi, Declan Rice and James McArthur).
By way of comparison Coutinho has managed just 0.7 for Bayern. That may have something to do with how dominant the German champions tend to be in Bundesliga matches.
Having been successful during Jurgen Klopp's early reign at Liverpool, Coutinho is no slacker, but Buendia's more humble stature in the game might make him more malleable to the culture Arteta is trying to form at Arsenal
Conclusion –
Personally, I'd probably just about go for Buendia. He is phenomenally efficient, hardworking, creative player and his star seems to be on the way up, while Coutinho is a player in decline. That said though football fans tend to have a short memory and what the Brazilian did at Liverpool proves just how much quality he really has. Getting him would by no means be a bad thing.
Signing either player would definitely fill a gaping creative hole within the Arsenal squad. All this analysis is totally dependent on whether we secure Europa League football by beating Chelsea in the FA Cup final of course, but I like to be optimistic.
Half English, half Turkish 23 year-old Gooner who has been going to Arsenal matches since the age of 9. Started supporting just after the Invincibles so got to see all the glory years of the late Wenger reign… Carl Jenkinson apologist and tactics enthusiast who is still scouting for that one defensive midfielder who can take Arsenal to world domination. I am a sports journalist who has written for websites such as 90min and Give Me Sport and worked at talkSPORT. Looking forward to sharing my disdain for Jose Mourinho with like-minded Gunners' fans.