For a couple of years now I've tried to grasp the concept of Arsenal and Tottenham hating each other on all levels: from fans to the board. I do realise that emotions are irrational. You hate someone just because you hate someone. Full stop. And yet, and yet…
Surely fans aren't born with this. It's a cultivated feeling. If you are born into the Gooner family (and I don't mean that thing on Twitter, I mean mommy and daddy), chances are they'll raise you to hate Spurs. Works the other way around too, of course.
It will probably remain a mystery to me, but I genuinely don't understand how the hate feeling can be cultivated. You can't be made to hate someone because of the fact of their existence, especially if you didn't feel any negative emotions towards them in the first place. However, it's not the point of this article.
The point is rather this: how can there be a debate about which Club is bigger? Hatred aside, I've seen grown men having heated arguments that "Arsenal/Spurs is bigger than Spurs/Arsenal because…" In my view, it's completely nonsensical.
I may not understand the hate concept because I wasn't born in London, or into the family of one of the respective clubs, but the ongoing debate about which Club is bigger wasn't at any point something that needed proving or having arguments about. In my view, comparisons and head-to-head battles can only take place when the opponents are worthy matches. Which is not the case here. Simply put, Arsenal are a big club, while Spurs are irrelevant. Here's why.
History (honours)
Just looking at the list of honours the Clubs have should put the argument to bed. The last time Spurs won a trophy was in 2008 (it was the League Cup). Their last FA Cup was won in 1991 (24 years ago), while their last league triumph came in 1961 (54 years ago!). On overall they have 2 league titles, 8 FA Cups, 4 league cups and 2 UEFA Cups. If we are counting the Community Shield, Spurs have won it 7 times, 3 of which being joint winners.
Arsenal's last major cup came in, well, 2015. Before that, in 2014. We have won the league 13 times, set the record for most FA Cup wins with 12. We haven't won any UEFA Cups, although won it's  predecessor the Fairs Cup in 1970. We also won the old Cup Winners Cup in 1994 and have claimed the Community Shield as ours 13 times, sharing it just once.
Spurs have recorded 1 Double, Arsenal have 3 (two of these in recent history). Furthermore, Arsenal went unbeaten in the league in 2004, claiming the only existing Golden Trophy.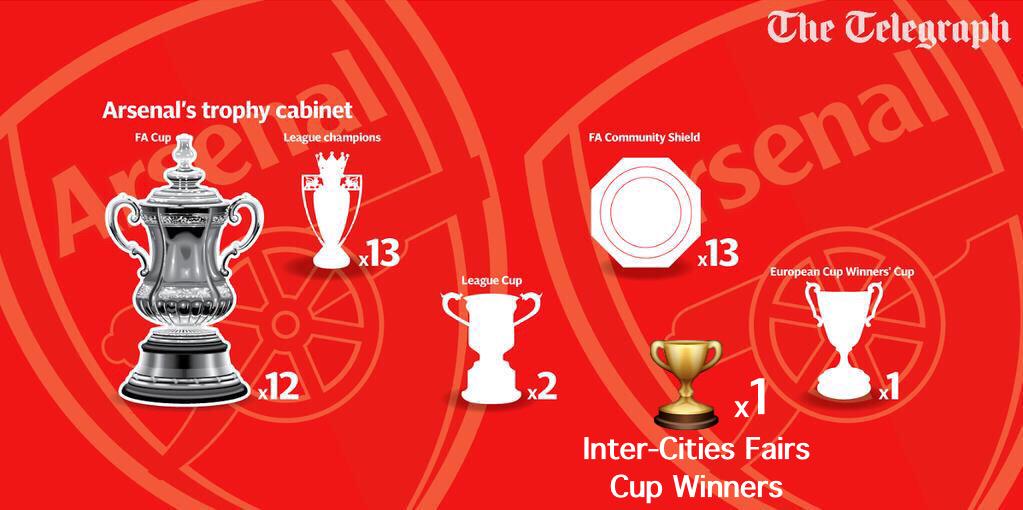 Managers
I'll say just one word: continuity. Over their 129-year history Arsenal has changed a mere 18 managers (!). It means Arsenal managers averaged 7 years at the helm! Our longest-serving manager is our current one: Arsene Wenger, who's just year short of reaching 20-years-in-charge milestone. He is followed by George Allison (13 years), Bertie Mee (10 years), George Graham, Herbert Chapman and George Whittaker (all 9 years).
What about Spurs? They have changed 41 managers (!) in 133 years. Their longest-serving manager is Bill Nicholson (16 years), followed by Peter McWilliam (15 years) and Keith Burkinshaw (8 years). Everyone else held out 6 years or less. Furthermore, they have changed 25 managers in the last 31 years. For comparison's sake, we've only changed 7 in the same time frame, out of which 4 were caretakers, prior to appointments of George Graham, Bruce Rioch and Arsene Wenger respectively (Stuart Houston and Pat Rice shared duties for a very short period).
Stadiums
Arsenal played at Manor Ground at the very beginning, apart from a three-year stint at the nearby Invicta Ground between 1890 and 1893. After that the Gunners moved to Highbury (in 1913) and it has been the Club's home for 92 years. Now we play at the Emirates, a state-of-the-art modern stadium opened in 2006.
Tottenham played at different public pitches at the outset, for a period of about 6 years, before moving to their current ground, White Hart Lane. To give you some context, White Hart Lane's capacity is 36 thousand, while Highbury's was 38 thousand. Even after countless renovations Tottenham's stadium remained smaller than Highbury, to say nothing about how Emirates is bigger than White Hart Lane.
Why did I bring the subject up altogether? Simple: Spurs are planning to build a new ground, one which will seat 500+ more people than the Emirates currently does. It's very obviously a stab at Arsenal, but this transition is irrational at its highest for Spurs.
While we needed a new stadium because Highbury was no longer capable of giving all the fans a chance to attend a game, Spurs don't have such a problem. Their average attendance last season was a thousand or so below the maximum capacity of White Hart Lane. They won't fill their new stadium. They simply don't have that many fans.
The verdict
I could probably go on and on, talking about players and such, but I see no point really. On top of all the facts I mentioned, I will add one more that'll further rub the salt into Spurs fans' wounds: they haven't finished above us for at least twenty years. Frankly, I see no further grounds for comparisons.
I can compare us to United or Liverpool, even to Chelsea and City. I say "even" because the latter two clubs have only become successful quite recently. Comparing Tottenham to us makes no sense. Apart from occasional wins in North London derbies, they don't have anything to demonstrate their superiority. Especially since said wins usually start a comeback for Arsenal and a downfall for Spurs.
Cheers!
Russian Gooner. No, it's not always cold in my home country 🙂
A staunch Arsenal supporter since 2004. Started writing about the Gunners in 2013.
Currently in London to get a degree in journalism.