Start at the End
POSITIVES, NEEDS and HOPES
How are we going to approach the game? How do we deny them? Defensive structure. Combinations. Passing patterns. Etc…
The above is a list of 5 of the most regularly practiced topics at a professional club. All are important. The first three might just be vital.
Here's the thing though….. 
Essentially the point of football is to score and stop them scoring, right?  Do you get the feeling that Arsenal are improving in most areas yet the final moment is being overlooked?
As a coach I am guilty of this very same sin, so this makes me a hypocrite. I'm also an armchair quarterback like you are, observing and judging. So we judge. My judgement is simply that if we primarily worked on finishing on the training pitch then we may well achieve our goals. I think the players know the structure, the patterns, the rhythm by now. Maybe it's time to start at the end. The final piece. The finishing.
I don't pay attention to American Sports much even though I live here now. I am aware however of how they are structured. Many more coaches and much more functional training. In American Football the team is together at the end of practice to run plays and pull it all together. Most of the sessions are in type groups. I've often wondered why professional football hasn't moved this way.
Training starts often with the rondos then keep away. This offers a good technical base, multi touches and improves quicker decision making. I'm not saying that what I do is right but I have a crew of coaches that achieve 2/3rds of the session in type groups. My strikers work on their technical side and decision making in drills that are replicated in their personal game. One touch finishing, 2 touch finishing, lay offs, aerial duels, movement, decoys. What I need them to accomplish is completely different to the defenders.
I see that Arsenal players need to shorten their swing when they shoot. Partey in particular.
Insist on the attacking midfielder penetrating the 6 yard box as he is often in front of the CF who has moved towards the play to set it. Lacazette and Odegaard often have the same lane that they are offering. –
As much as Auba loves to hide at the back post there are times when he needs to attack the central space.
Too often we are hitting the keeper. This is easily changed by encouraging players to eye a side. If you eye the keeper then you will often hit it there as a footballer is trained to distribute based on where he looks.
Our attacking unit look rusty in front of goal. Almost as if the only practice they get at their art is in the 8 v 8's and unopposed shooting drills that don't replicate reality.  If the coach doesn't give time during the session, the players need to stay after. Create automatics, shake off the rust.
Maybe it's time we started at the end and prioritized finishing.
POSITIVES:
-I was going to theme my opening words based on my disappointment at the lack of desire to put the game to bed early. I watched it back and this wasn't the case. The defenders were focused but mostly redundant as the midfield and forwards wouldn't let Olympiakos out. The pressing angles were very good and forced them to choose a second option. The Arsenal midfield included multiple occasions where all three of ME, GX and DC all raised the tempo by playing one touch and turning. A new facet for Mo Elneny in particular. The struggle was that the forwards weren't connecting as Pepe couldn't find his touch, Auba was trying not to get hurt and ESR wasn't playing with the same directness of movement. This moves me on to perhaps the biggest positive…
-Mikel Arteta.
I felt that yet again the Manager gave his team the tools. A first period of the game that enabled sustained dominance. Split strikers to block their preferred exit routes. Proactive and intelligent substitutions, which haven't always been a strength.
-Partey is a mixture of the positive and the unnecessary right now. I do want to point out that he has a quality that's under appreciated. His second touch. His first touch is often intelligent but it's his second touch that comes so quickly after his first and gives him an immediate burst away from pressure.
-Odegaard strips naked the need for more technical security in our team. He was the catalyst for us getting to breathe again when things were getting tense. A real player.
-Pepe is a thief. He won the ball back almost as many times as the entire team. If only his forward play matched it but he was Emile's noggin away from a certain goal.
-I'd almost forgotten what Martinelli offers. It was so encouraging to see his burst of pace and equally his burst of energy.
-Leno's early save was pivotal. I almost forget to be impressed.
NEEDS: 
-Tierney is brilliant. Tierney should pass with his right foot though. So as not to be so predictable when he turns back.
-Is the current support for Pepe due to the fact that he offers the unpredictability that we wish others offered?
-Pepe and Bellerin didn't work. Again. Ouch.
-Our set piece coach pulled out a surprise yesterday. Bellerin on the 6 yard box trying to attack a corner. Weird. I want to meet this chap. Who is he?
-It's fair to acknowledge that Partey is trying to force his confidence. He's not close to his ceiling right now but his decision making needs to relax. Too much risk taking, too much aggression in dangerous areas and and too much effort in his shooting.
-It's, yet again, our senior players that need to lead the way in stressful situations. We were teetering on the brink of another complete loss of composure in the second half. It was the senior players that needed to stop shouting at each other but calm it down with their actions. Simple pass, not panicked clearance.
-I was not surprised by Auba's supposed 'lack of interest.' I don't see it that way. We are going to have to arrive and park at the conclusion that if he is our main striker moving forwards, that he has no interest in any physical confrontation. His 'lack of fight' or his 'not putting in a shift' are both present every game. He will press you and chase you but he won't engage you as he's riddled with fear. The upside is that because of his aggressive passivity he has stayed injury free for almost his entire career. He is a niche player. He will score at the back post exclusively as he doesn't want to enter the kick zone where the centre backs roam. He won't play with his back to goal as he can't be sure of whether they will plough through him. He won't hold up a long ball as this would mean that he has to back into the defender. Which might upset him. And he may kick him.
We are going to have to play to his strengths and suck up the weaknesses as they are permanent. Either that or lean into Martinelli. I'm getting mighty close to option two.
What I didn't understand from Auba was why he wasn't running behind when there were many chances to counter on transition. I also felt baffled as to why he didn't take his one on one with his right foot as he had the time.
HOPES:
-I think what I'm trying to say is that I hope for a centre forward with hunger. What we lack in Auba is actually a fundamental base piece that almost every striker is at least willing to give for their team. Almost anyone we sign will get physically involved. They will attack aerial balls whether good in the air or not. They won't ignore the centre of the goal and hide at the back post and offer zero unpredictability in box movement.
The answer cannot be in the market first though. Martinelli has everything we need yet it's all just potential. Auba is an elite finisher with elite pace. A known quantity that if we lean into his strengths then we fly. I just think he has been figured out and is unwilling to change.
I don't think that the release of the training video featuring Martinelli practicing as a CF was simply an innocent post. I think that it's an attempt to get Auba to want to step up.
FINAL THOUGHT:
The high school team that I talk much about wear the same kit as Dinamo Zagreb. I've therefore decided to take full credit for Spurs tumbling out of the Europa League. You're welcome.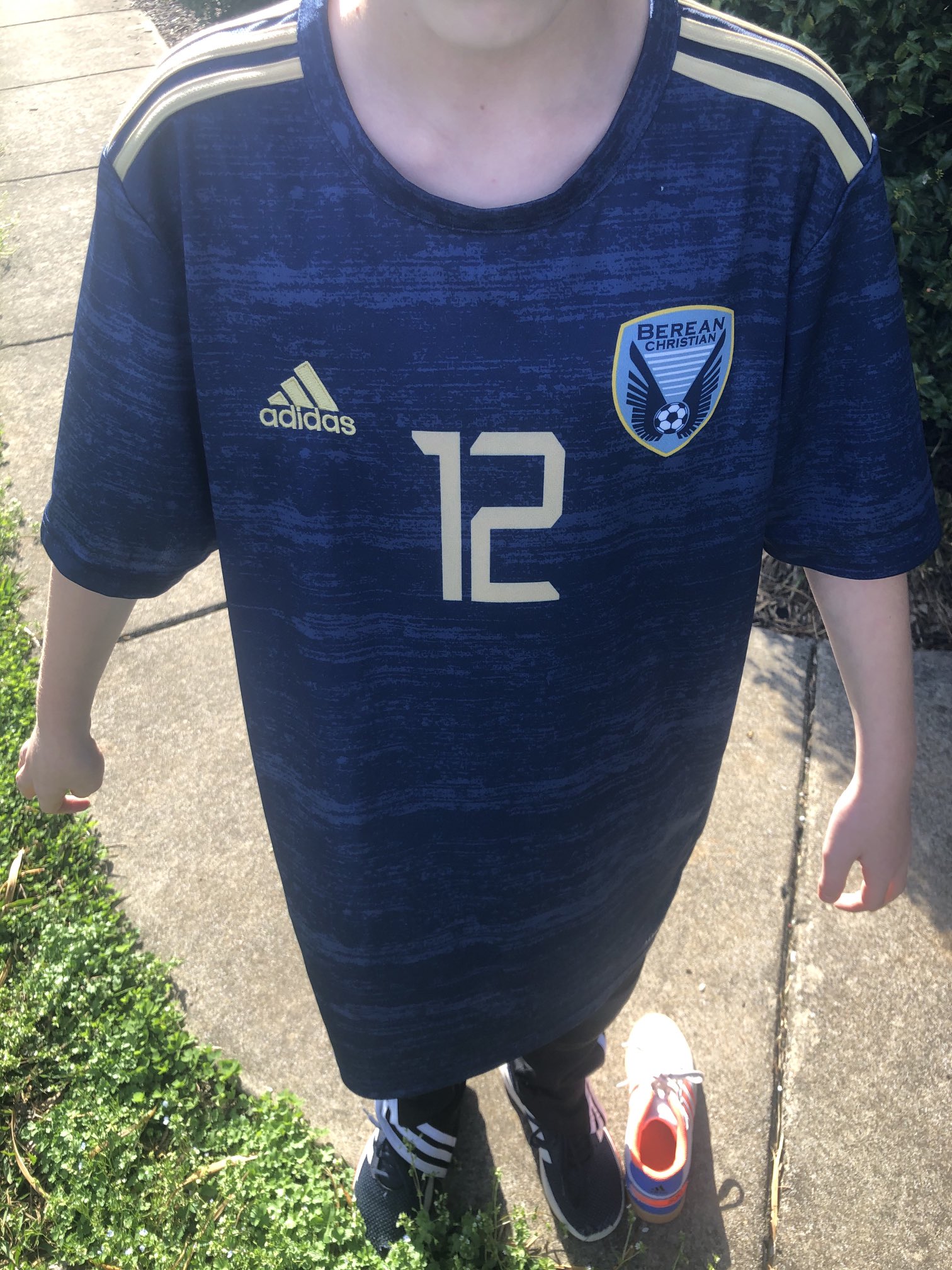 Former Highbury regular. Moved to TN, USA in '99. Married with 3 kids. Coached in UK and US for 27 years.
Mike McDonald Soccer Academy in Morristown TN, Olympic Development coach, Regional Premier League Champion.