This was the Arsenal lineup for the match.
ARSENAL BUILD-UP PLAY:
Arsenal looked to build-up in a 3-2-5 as we've seen a lot this preseason and the end of last season. With Chambers dropping deep to form a back 3 with Elneny and Partey forming a double pivot.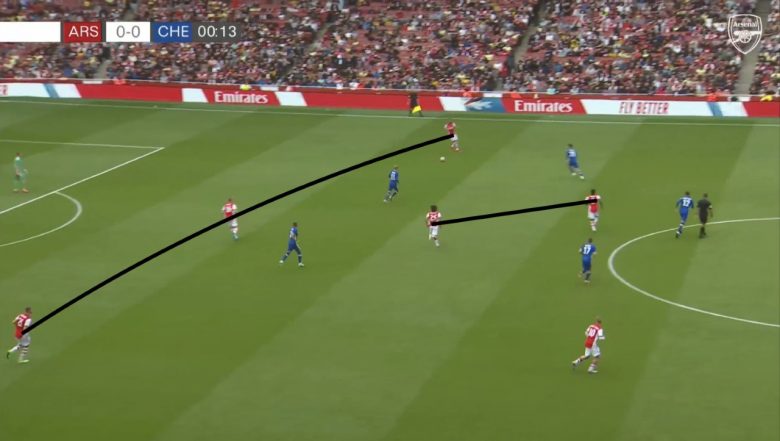 Aubameyang and Smith Rowe would drop deep between the lines to receive the ball.
In the build-up, Tierney sometimes wouldn't push high early and would instead stay deep and look to receive the ball out wide.
ARSENAL IN POSSESSION:
Arsenal in possession would transition into a 2-3-5 shape Arteta has used a lot. With Elneny and Partey forming a double pivot while Chambers would be inverted.
At times Smith Rowe would drift into RCM to form a 3 in midfield while Chambers would overlap and Pepe would move into the right half-space. Still making it a 2-3-5 shape.
Arsenal would look to create from crosses from the LB and from Bellerin and Chambers who would occasionally overlap.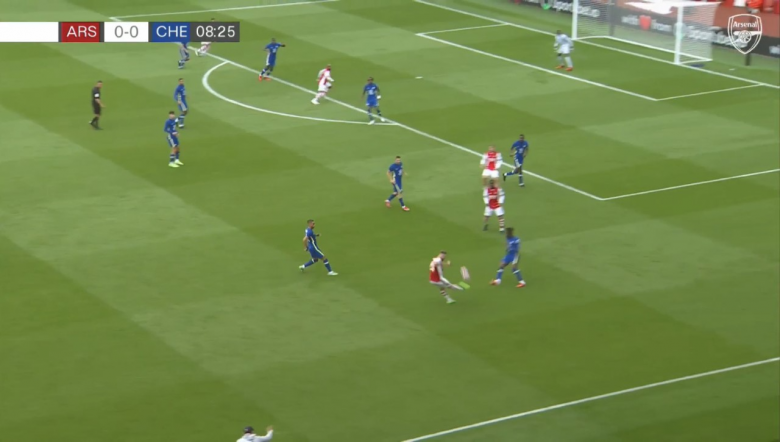 As I said earlier in the build-up Tierney would look to receive out wide and wouldn't push up early. While doing so Aubameyang would also stay wide.
Then later in possession Aubameyang would drift inside while Tierney would overlap him and put in a cross.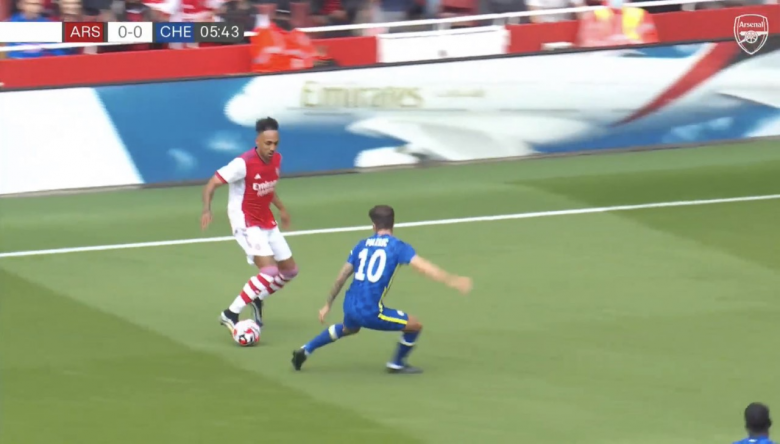 ARSENAL DEFENSIVE STRUCTURE AND PLAY:
Arsenal would look to press Chelsea in a 3-4-3 pressing shape when they tried to play out from the back. Arsenal would go man-to-man and try and stop Chelsea's 3-2 build-up shape.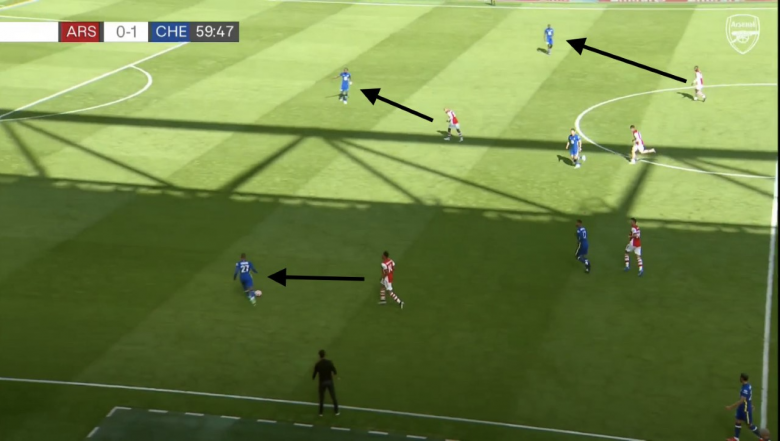 Arsenal would then drop into a 4-4-2 low block.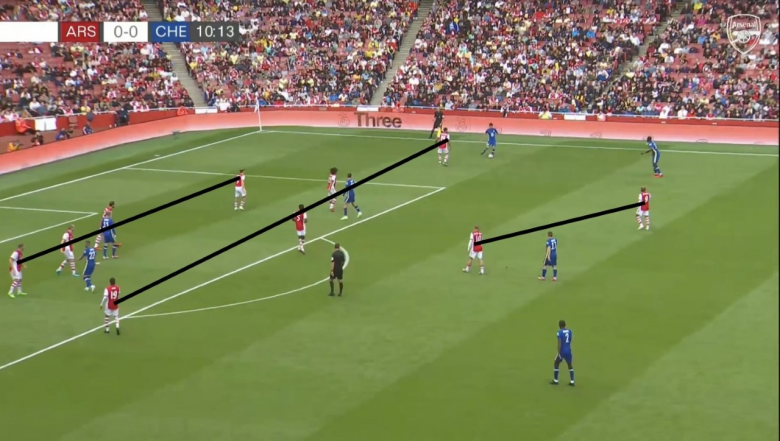 FIRST HALF:
It was a pretty even match as it was settled attack vs settled attack. But Arsenal were left exposed on the counter attack after Holding pushed up to support the attack and it became 2v1 for Arsenal. Werner passed the ball to Havertz who shot with power into the top right corner.
Partey got a very bad injury later on as it didn't look great as it looked like he sprained his ankle. He could potentially be out for 4-6 weeks which is a massive blow as he's looked excellent in preseason and is a very key player in Arteta's system. Xhaka gets subbed on for Partey and Arsenal go into halftime 1-0 down.
SECOND HALF:
Ben White makes his debut coming onto the pitch after being subbed in for Holding. He doesn't fail to impress as 8 minutes after coming on. Pulisic plays a long ball to Ziyech for which Leno comes off his line and Ziyech chips it over him.
Ziyech keeps the ball and tries to find space to shoot to score only for his shot to be blocked by Ben White to prevent Chelsea from going 2-0 up.
15 minutes later Pepe takes the corner from which Xhaka heads the ball down into the goal and Arsenal score to make it 1-1.
The goal was short-lived though as 3 minutes later Bellerin makes a poor pass to Xhaka which falls to Abraham who pounces on it and scores to make it 2-1 Chelsea. Poor error from Bellerin.
CONCLUSION:
I do like Leno he's a good shot-stopper but he's very poor with the ball at his feet and has poor kicking as well.
My main problem with him is that he distributes slowly and wastes time when doing so. He therefore allows the opposition to get into their pressing shape. As we know Leno is poor on the ball and isn't great at passing so he either makes a hurried pass which often leads to a mistake or he just goes long for which the opponent regains possession.
Arsenal needs to sign a replacement for him the GK I would sign is Onana or Meslier. Meslier I don't think will happen and Onana will be gone for half the season anyway even if we sign him since he's currently suspended and will also be at AFCON. So Arsenal are probably going to have to stick with Leno as I don't believe in the Johnstone and Ramsdale rumors.
Xhaka had a great game in my opinion as he scored a goal and had plenty of good passes between the lines and some good long balls. The through ball he made to Aubameyang an example. I'm happy that he's staying as he's very integral to Arteta's system and is in his prime. I believe we will see a Lokonga-Xhaka pivot against Brentford which is a very good midfield.
Our thanks to our guest today, Matthew Musiitwa who you can follow on Twitter for his great tactical threads @Matthew90030843