The 22-year-old Malian is making waves in the French Ligue 1. Who is he? What is he good at? What's his profile? Why do I liken him to a young Thiago Alcantara? All will be answered. Read on and Enjoy.
Disclaimer — All data used for the radar plots is normalized to per 90. Then further normalized to percentile ranks among Ligue 1 midfielders to play at least 1000 minutes in the 21–22 season. To provide more context, all radars will be in comparison with Aurelian Tchoaumeni.
Doucouré has been playing as a RCM in a midfield 2 or at the base of a midfield 3 for most of the season. His team's preferred system for the season has been a 3–4–3/3–5–2 which shifts to some form of 3–2–5 or 3–1–2–4 in attack. Lens is a team who mix it up in terms of their positional play. Sometimes they go long but their preferred option is to build up from the back. Doucouré is a key cog in their system as he acts as the link between the defense and attack. Many a time acting as the sole anchorman.
Passing and Ball Progression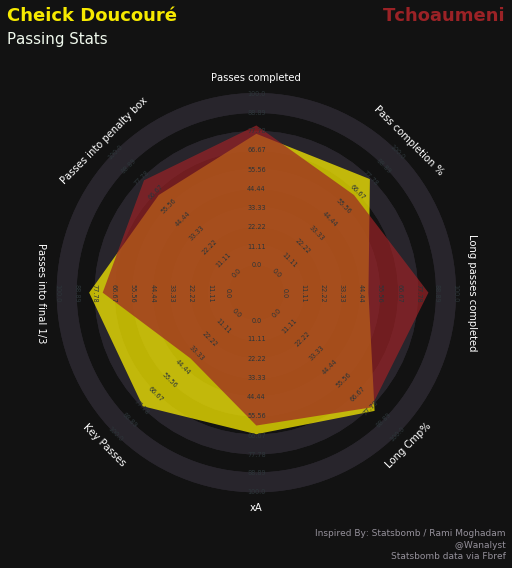 As seen on the radar, there's not much difference in terms of their passing ability but Doucouré edges Tchou by a slight margin. Doucouré has a good eye for a key pass which is seen on his radar. His key pass p90 rate of 1.16 was the best among all under 22 midfielders in Ligue 1 this season. He combines this with an excellent Pass completion rate showcasing his ability to retain and recycle the ball efficiently. One thing Doucouré lacks or maybe hesitates to do is long switches. He is only completing around 6 long passes a game which is a number that needs to be improved upon. Tchou for comparison purposes completed 8.6 long passes per90.
In terms of Ball Progression as well, Doucouré is right up there.
Only 5 players complete more progressive passes and 7 complete more progressive carries than Doucouré in Ligue 1. None of them is under 22. The following short clip sheds some light on his passing and ball progression ability.
Doucouré is a top-quality ball progressor. One of the best among the new young generation of midfielders. My analysis is majorly based on the eye test. Data is just a tool to justify my objective findings. And the more you watch Doucouré the more you are reminded of Thiago Alcantara. The zipped passes into the feet of your forwards, the ball carrying ability and style, the feel for the game. Feel is a very subjective word, I know. In short by feel here I mean the innate ability to sometimes play a pass slightly heavier than it should be or slightly ahead of the recipient or with the out-foot to a player the opponent is not expecting it to go to, etc. etc. All to put your team on the front foot or disorganize the opposition lines. One such example can be seen in the following short clip.
SCA
Let's look at Shot creation now. Doucouré SCA numbers are in the 70+ percentile which is quite good for a player who is majorly operating in the defensive and midfield third. Most of his SCA are a direct result of his superb passing ability.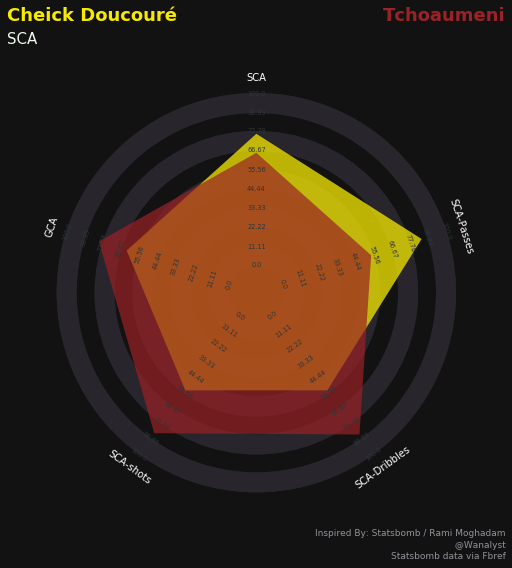 Defensive Ability
Doucouré currently is a hybrid half 6 half 8 type of player. In the mould of your Thiago's, Xhaka's and Neves's. But I do think Doucouré can develop into a top-quality lone 6 and his relatively superior defensive ability (as compared to other players of similar profile like Neves, Thiago, Caqueret, etc) is a big reason for that.
Doucouré as shown in the radar is winning about the same number of tackles as the defensive demon Tchouameni. Even though Doucouré is lacking behind in his tackle win %, he is still a pretty good tackler. Around average in other departments like interceptions, aerial duels, pressures, etc.
Some bits of Doucouré defensive ability below.
Overall
Looking at the overall radars of Tchoaumeni and Doucouré, one would conclude that both are quite similar in their profile. This holds true for the eye test as well. Doucouré is a better passer of the ball whereas Tchoaumeni is much better defensively and is more well-rounded.
Physically, I would put Doucouré in the above-average category. He is robust, strong, has decent pace and wins a good amount of ground duels. Complementing this robustness with his composure allows him to wiggle out of high-pressure situations with relative ease.
Doucouré is quite mature on the ball. A key component in the Lens system, tasked with controlling the tempo of the game. At 22, that is a huge ask and Doucouré performs it magnificently. This, in my diary, is a big green flag. Doucouré understands the requirements of the game and adjusts accordingly.
Key Things he needs to work upon –
1 — Complacency: Sometimes Doucouré calmness turns into complacency (Something Thiago is guilty of too, AMN the extreme example). This leads to him messing up simple 5-yard passes or losing the ball in a dangerous area. If he wants to play for a CL side, he'll need to sort this out asap. Seems easy but this is one of the things that require a good amount of time to be ironed out. Prime example — Xhaka.
2 — Defensive work rate: Doucouré's defensive application is not up to the level I would like from my deepest lying midfielder. At times, while his teammates are busting their lungs to get back during a defensive transition, Doucouré can be found guilty of slowly jogging back (not always). This is a simple issue of the player either a) not being able to recover b) Choosing to save his energy. With Doucouré I'd argue it's the latter and this is something that can be worked upon right away.
Fit for Arsenal –
Doucouré best position if he comes to Prem would be in a midfield pivot. He can play as a lone 6 but he is not ready to perform to a high level in that role in the PL. I could see a place for him at Arsenal ONLY and ONLY if we sign a starting LCM and sell Xhaka. Doucouré can be the 1st choice rotation for the LCM role in a system where the LB is allowed to join the front 5. Doucouré can be the LCM in a 2–3–5 supplying the frontline with penetrative passes. Arteta seems to be moving to a 4–3–3 and that makes Doucouré even less of a fit in the short term. Doucouré doesn't have any experience playing ahead of the ball in the final third. That is one of the key requirements for a Free #8 in a 4–3–3. He has the skills that can help him flourish in that role too (close control, balance, one-touch passing, etc) but it will take at least a full season before he is comfortable in that position.
He could be groomed to be Partey's successor as our lone #6 but we already have Sambi in that position. Doucouré is a better player right now but Sambi's supreme talent alone makes me sure that the lone #6 role is locked for the future. It will either be Sambi or Patino there. For the short term, we have Elneny as cover.
So unless we sign a new LCM and sell Xhaka, Doucouré doesn't make any sense. We could sign him and loan him out if the market presents that opportunity but that's just me living in my fairytale world.
If we were to get him, this is his overall radar compared with Xhaka. Very similar passing ability but better defensively. I wouldn't be against Doucouré as long as we sign a starting LCM who is an instant level raiser. This is because Doucouré has a bright future ahead of him. If he keeps his head down, irons out his weaknesses and keeps polishing his strengths he will eventually end up playing for a CL team.
The best move for him right now would be to sign for Leicester, Brighton, Palace or some team of that sort. Progressive manager playing possession football where he will definitely start. Ideally in the Prem for the recognition as well as financial benefits, obviously. He could even do a good job for Barca and Manchester United.
Likes and Shares would be appreciated. Feel free to ask any questions.
Performance | Recruitment | Data Analyst.
Working in football for the past 2 years. Gunner through and through.
About to start an MSc in Sports Performance Analysis in Sept/Oct 2022