This week on 'The Weekly Education', I'm praising a lot of Arsenal
players for their performances against Wigan Athletic on Tuesday night, the
hooligans are coming to town, Arsene Wenger put a rocket up Theo Walcott's Arse
and I give my view on a potential 'Third Place Playoff' and it's likelihood…
Three points down (up), Three
to go!
As I stood waiting for kickoff on Tuesday night, despite being the
last home game of the season, the tension and sense of expectancy was palpable.
All 60,000 knew that a slip up now could set the club back significantly for
who knows how long. It really was that important. At half time the mood was
nervy and for a moment it seemed that maybe Wigan's determination to survive
the drop would see them earn at least a point. Thankfully, however, the players
knew they had to step it up and repaid what turned out to be a fantastic
atmosphere fueled by raw emotion.
I thought the team did well collectively, but I have a good few
players I'd like to shower praise upon (As briefly as I can)…
Theo Walcott played his socks off on Tuesday night! His running,
both on and off the ball, was effective; he was constantly taking on his man
when occupying the RW area. In my opinion, we would have been lost without his
pace. His goal was a 'right place at the right time" situation and not
particularly spectacular at all, but who cares!
However, what impressed me the most about Theo was actually his
tracking back. He is often found guilty of being rather lazy defensively and
leaving Bacary Sagna very isolated, but against Wigan he made a couple of
crucial tackles and blocks in our own defensive third. It was promising, to say
the least.
Santi Cazorla provided all four assists. All four! He became only
the second player to do so in Europe's top five leagues this season. Pretty
bloody impressive, if you ask me. Santi really was an absolute delight to watch
as he roamed freely across and behind our frontline, taking tantalisingly good
touches, wonderfully weaving his way through Wigan's challenges and spraying
beautiful passes hither and thither. I love him, I really do.
Having been rather unimpressive in the past two games, Lukas Podolski
was back to his clinical self on Tuesday as he grabbed a well-taken brace. It
seems that Podolski may not be a trick master like Santi, a lightning quick
runner like Theo or a towering presence in the box like Olivier Giroud, but if
he's given a yard of space, or simply not picked up, he will punish the
opposition for it. His goals range from the fantastic to the scrappy, from the
belters to the tap-ins, but the important thing is that he does score them.
Lukas is now in double figures in the league, making Arsenal the only team with
four players to do so.
Our central defensive partnership is bloody brilliant. I'll leave
that one there.
The final player I want to mention is someone you should all know I
have a lot of time for: Aaron Ramsey. Ok so he made two very silly passes (fair
enough!), but I have never seen a player get around the pitch like he does.
He's like a wind-up toy that's constantly re-wound by some invisible entity
that floats around the pitch after him. He also tackles constantly and to great
effect. By 'getting stuck in', Ramsey breaks up the opposition play while
simultaneously lifting both the crowd and his own teammates.
If anyone deserved a goal recently, it was Ramsey. I was so over the
moon when he did grab it (in some style, might I add). His glance across the
box, deceived the 'keeper and allowed Ramsey to smash the ball home at the near
post. Perfect.
Hooligans Galore
It was revealed recently that Arsenal have invited Galatasaray,
Napoli and Porto to take part in this year's returning Emirates Cup. As far as
I know, Porto fans are reasonably average, down to earth and nice people.
However, Galatasaray and Napoli are notorious for having violent and racist fan
bases, or at least sections of fan bases. So, for a pre-season tournament that
is meant to be a fun, friendly weekend of football, inviting two lots of
hooligans probably wasn't the best idea ever.
"The
competition is always a great way for the Arsenal team and fans to prepare for
the start of the new season and we're looking forward to supporting this high
quality tournament once again." – Boutros Boutros (Someone of importance
from Emirates who has a funny name)
So why on earth are we giving riff-raff like
Galatasaray and Napoli fans license to come and join in? They'll most likely
come over and make a right old nuisance of themselves by potentially chanting
racist remarks, beating people up and possibly even worse. And don't you bloody
give me that "Oh, but Emmanuel Eboue's coming home!" bollocks! Yes, it's great
that Eboue, one of the most entertaining players to have graced Arsenal (not
because of his ability), is returning, but in reality I'd rather sit and watch
football safe in the knowledge that I won't get a chair thrown at my face at
any given moment. *Tut Tut Tut*
Kick
Up The Arse
"The
manager gave us a kick up the backside. It's great that the manager has that
passion and it got a bit more out of the players." – Theo Walcott
Wenger's still alive and kicking it seems,
which is reassuring to hear. On Tuesday night, the atmosphere was nervy at half
time and worry was starting to try and claw its way to the forefront of fans'
minds as appose to the back, where it almost constantly is if you're a Gooner!
The team certainly needed something to motivate them, anything at all.
According to Theo, that something was Wenger himself.
There's been evidence of Wenger rediscovering
his ruthless streak in the latter half of this season, certainly with regards
to squad selection (dropping of Thomas Vermaelen, Wojciech Szczesny and the
likes). With the news that the usually cool-headed Frenchman may have adopted
the 'hair-dryer' technique (made famous by Sir Alex Ferguson), it seems to me
that contrary to what some people believe, his heart is still in it and his
determination is as passionately driven as ever.
On at least two occasions on Tuesday night,
"One Arsène Wenger" was being sung all around me and on those occasions, I felt
happy and proud to be joining in.
Unheard-Off
Well this is intriguing isn't it? I'm of
course referring to the possibility of their being a third place playoff
between Arsenal and Chelsea, if certain results occur on Sunday. So first of
all, let me lay it out for you:
If Arsenal beat Newcastle United 2-1 AND if
Chelsea draw 0-0 against Everton, both teams will have exactly the same goal
difference and goals scored. Thus, according to the official FA rules,
determining who finishes above one another would be rendered impossible (on
paper). Therefore, the two sides would have to play a playoff match at a
neutral venue in order to determine who finishes in third and fourth.
Got it?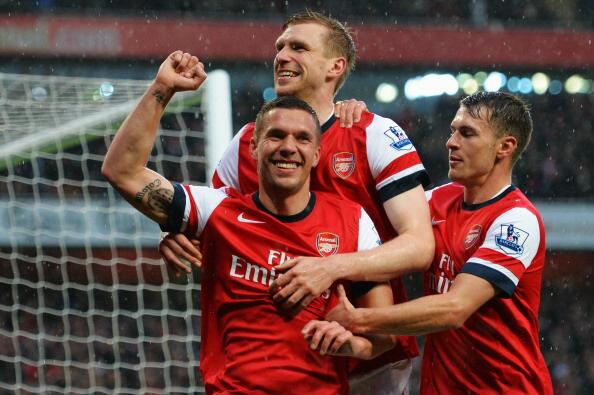 Well, don't worry if you don't because it's
bloody unlikely it'll happen anyway… Or is it?
Reasons why Chelsea vs Everton might finish
0-0:
Everton have drawn away from home against
Manchester City, Tottenham Hotspur, Arsenal and Liverpool this season
(comparatively competitive clubs), with two of those results being goalless.
Everton also have the highest number of
draws away from home in the league this season (9).
It's David Moyes last game in charge of the
Toffees, so they'll want to get something out of the game.
Reasons why Newcastle versus Arsenal might
finish 1-2:
F*ck knows…!
On that bombshell, have a good week and get
behind the boys for the final push! Up The Arsenal!
Billy Dunmore
I'm a 20 year old student and lifelong Arsenal supporter residing in North West London. From the North Bank Highbury with my old man – when I was knee high to a duck's arse! – to Club Level at the Emirates, and now having to find my own means of following The Arsenal, I can't keep myself away from the alluring red and white…
After recently discovering a passion for writing about The Arsenal that matches my passion for supporting them, I've written numerous articles for various Arsenal blogs. In 'Welcome To The Gunners' Town', I now have a place where I will be writing on a regular basis. Through the highs and the lows, the cheers and the jeers, I hope to provide my own balanced opinion and commentary on all things Arsenal.
"Once an Arsenal man, always an Arsenal man"
… Amen, Bob Wilson. Amen.