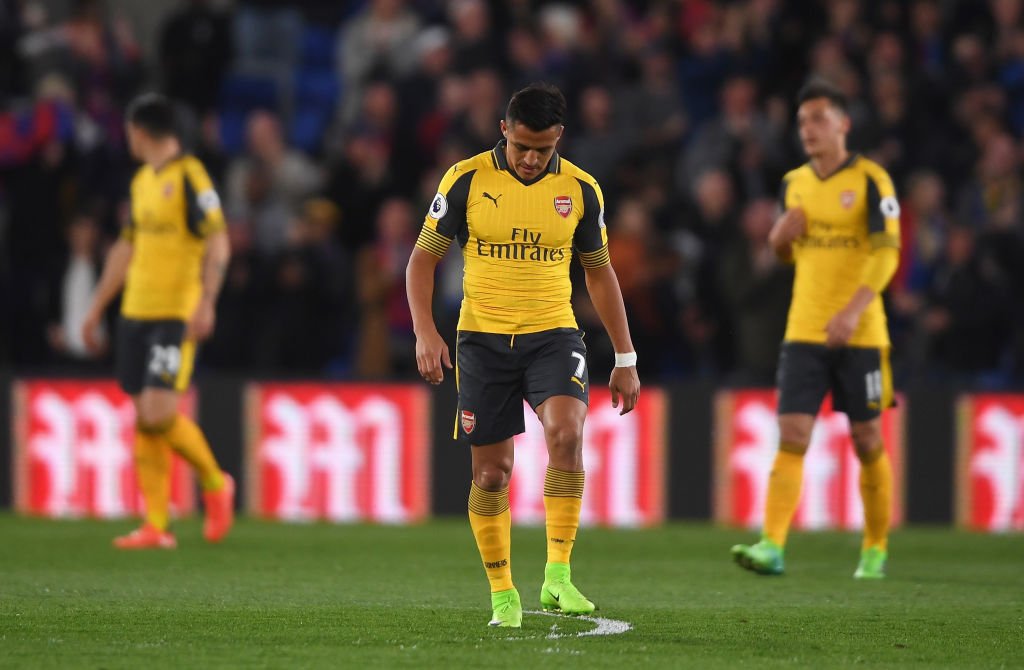 In my time supporting Arsenal I have seen a lot and been through a lot. It's been a mostly stressful and largely unrewarding journey, as my hobby started in the summer of 2004. Hence, unless we count Community Shield, I've only watched Arsenal win three major pieces of silverware.
However, I can without a shadow of a doubt describe the current situation as the worst I've been a part to. Getting pummeled by big sides hurt, every defeat does, regardless of the opposition and margin, for that matter. I've become accustomed to big sides rolling over us, unfortunately. I've even come to terms with the fact that every season we lose at least once in a spectacular fashion. It's probably a percentage game, to be honest: I think every big side gets beaten across the season, sometimes they do get beaten by a wide margin.
But the bit that absolutely does me in today is the sheer fact we got punished by Crystal Palace. A team fighting to stay up, under the stewardship of Sam Allardyce. A team Arsene Wenger has never, up until yesterday, lost to in the Premier League. A team that, up until yesterday, only managed to get the better of Arsenal twice in 33 games. A team with infinitely fewer resources and players whose quality should be far inferior to those playing for Arsenal.
This team, this manager and these players, have put Arsenal to the sword yesterday. They thoroughly deserved the win too. A team which enjoyed just 28% possession had six shots on target to our three. The Eagles were only 1-0 up after half-time, yet they came flying out of the blocks for the second. Like they were on the wrong side of that score.
I remain fully convinced this Arsenal side is capable of far better. It appears they just don't want to show that, and that goes back to Arsene Wenger. He created a situation which allowed the levels of concentration to drop so drastically, this happened on his watch and as a consequence of his actions (or lack of thereof).
What I see is a team not short on ability, but short on desire to demonstrate it. It is appalling, because I am equally convinced the players should give their all for the shirt regardless of the man in charge. I cannot for the life of me wrap my head around the idea of highly-paid professionals underachieving on purpose. Yet it appears to be the case. I am disgusted with them.
I would feel sorry for Arsene Wenger, however there are two reasons why I hesitate to actually do that: the Frenchman plays a part in this mess, and he is not showing signs of accepting he can't do it any longer. He seems to lack humility, concentrated on proving everyone wrong, blinded by the idea he is the man for the job still.
I cannot see how any other top club another manager could survive losing five games out of eight, three of these to West Brom, Watford and Crystal Palace (no disrespect meant for those teams), yet I can see how Arsene might. It is almost surreal.
I'm not sure what should happen for Stan Kroenke to actually get off his arse and be proactive about the situation, albeit falling out of the Champions League might give him food for thought. At this rate we'll also fall out of the Europa League places, but given the choice between EL and no EL I'd probably pick the latter, so it's not this important to me.
However there's a thing that is: the long-term future of this club as well as the short one. I can live without Europe for one season, but I cannot see it being only one season if everything stays the way it is. For one, I'm pretty sure we'll lose Ozil and Sanchez this summer to add to our no CL woes.
Secondly, it will be pretty hard to bring in proper replacements with no Champions League and no desire to change wage structure. The latter obviously won't happen under Arsene Wenger.
We are likely to find ourselves in a situation we were in before Ozil joined, but even worse. We'll have the same squad, but each of them will be four years older and we won't be nearly as well placed to build on the existing platform.
The only way I can see us breaking the cycle is the change of manager. If nothing else, another coach will end the toxic atmosphere around the club and will get this team performing to their level. With any luck he'll be able to coach it better and bring us back into the top 4 before we go down the Liverpool road.
The whole situation is immensely hard to swallow. It's the worst I've witnessed. It goes beyond simple moaning the Club has no ambition and is content with top four, because we will most likely fall out of the said top four and nothing will change. Which begs the question: what is the level of the Club's actual ambition? At this rate I'd say not getting relegated. Unless you aim to win trophies or play in Europe, all the rest is meaningless. Until the danger of relegation rears its ugly head.
I'll leave it at that. I hope in my heart of hearts Arsenal prove me wrong and take decisive steps to arrest the slide. The alternative is just too painful to think about.
Russian Gooner. No, it's not always cold in my home country 🙂
A staunch Arsenal supporter since 2004. Started writing about the Gunners in 2013.
Currently in London to get a degree in journalism.