Not many Arsenal fans across the globe would have envisaged their beloved club to be sitting in 9th place with 9 games remaining, especially after the joys of a 14th FA cup triumph back in August. So what went wrong? Individual errors and refereeing decisions are valid points but Arsenal's biggest downfall has lied with the system. The system key in handing Arteta his 1st piece of silverware but has found to have glaring deficiencies, which opposing teams exploited to full effect. But since moving away from the hybrid 3-4-3, improvements both in performances and results has generated optimism. In this piece, an analysis of Arteta's 4-2-3-1 is discussed.
In possession
A disciple of the generational Johan Cruyff, Pep Guardiola's principles of football has revolutionised the modern game. Most of the top teams utilise these core ideas but implement their own tactical innovations for uniqueness.  And when you analyse the way this Arsenal team play, it's very evident that Arteta has gained valuable knowledge during his time in the North West. Control, dominating games with the ball, intensity and intelligence out of possession; aspects that Arteta demands and elements which shape his style of football.
Currently, Arteta instructs his men to primarily operate in a 3-2-5 shape when possession is deep within their own half. The way this is utilised depends on the starting eleven. Xhaka, a key performer within the current system, usually drops back into the left centre back role, which enables Tierney to bomb forward and give the Gunners a lethal wide outlet. But in this situation, Chambers drops back on the opposite flank to form the back three, with Partey and Xhaka slightly ahead in midfield. 
As the Gunners progress forward, the structure morphs into a 2-3-5. The idea is to have 5 players across each of the different channels to maximise attacking efficiency without looking vulnerable in transition.
In order to facilitate ball progression, Arteta is in favour of having two creators dropping deep to collect the ball who offer the midfielders and defenders with a simple passing option. When Smith Rowe or Willian operate as inside forwards through the left, they collect the ball from deep, which allows Tierney to maintain the width and act as a left-winger. Odegaard performs a similar role but instead operates between the right half-space and central space.
Similarly, the principles are identical when attacks stem through the right-hand side. Tierney will drop back to aid the build-up process, the right-sided midfielder in the double pivot will drop into the right centre back role, enabling Bellerin in this case (not in the picture) to advance forward. The general pattern revolves around one full-back overlapping or underlapping whilst his opposite partner will tuck into midfield when possession is within the final third.
What's already very noticeable is Thomas Partey's influence and how his inclusion in the starting eleven improves Arsenal both defensively and offensively. The Ghanaian's profile is exactly what Arsenal have been lacking for years; athleticism, mobility and a relentless engine. Partey's sheer presence and ability to slow down attacks gives Arteta the opportunity to allow an additional player to join the attack, creating a 3-1-6 structure in possession. Manchester United away and more recently against West Ham is where this shape has been seen, and this tends to be on display when the Gunners are chasing a goal.
Balance
Balance is fundamental in Arteta's 4-2-3-1 and the Spaniard is always in favour of a left and right-footed combination through each flank. Pepe is a great example to illustrate this point. The Ivorian has been in fine form since the turn of the new year, demonstrating impressive levels of productivity. Despite this, the 25-year-old has struggled to cement his place within the starting eleven because of the incredibly consistent Bukayo Saka. Kieren Tierney is an integral piece within the jigsaw so will always feature which has a knock-on effect for Pepe when it comes to starting through the left. When he did play through this flank, it was because Cedric came in for the injured Tierney, which allowed the left/right-footed combination to be restored.
The difference between Lacazette and Aubameyang as centre forwards
It seemed previously that Aubameyang would only be utilised as an inside forward under Arteta. But since the turn of the new year, the Gabonese international has seen plenty of minutes up top, as the focal point of the Arsenal attack. Both Lacazette and Aubameyang have had impressive displays as centre forward's but the role each play differs.
Starting with Aubameyang and during the build-up play, the plan is to have the Arsenal captain in a situation where he's isolated in a 1v1 with the opposition centre back or full back. In both situations below, Willian and Smith Rowe, the two left-sided forwards collect the ball from deep and act as creators, with Aubameyang drifting out wide. Smith Rowe plays a quick give and go, whilst Willian drives forward with the ball. Slightly different passages of play in both fixtures and further details are provided in the diagrams below, but the end result is the same; Aubameyang in a position where he can run at his man from a wide position.
Meanwhile, Lacazette is far more involved within the build-up phases. The Frenchman's ability to hold players off from deep, and bring others into play is one of his better attributes and it allows the two inside forwards to play on the shoulder. In the Gunners' most recent game at the Olympic stadium, Arsenal's number 9 was pivotal in dragging West Ham's centre backs into areas they didn't want to be in.
What Mikel Arteta demonstrates here is the ability to understand player strengths, apply minor details which alter the system but ensure that his footballing blueprint is maintained. Aubameyang struggles to play with his back to goal and likes to run into space, whilst Lacazette is influential at progressing his teammates further up the pitch when collecting the ball from deep.
Out of possession
Previously under Unai Emery, arguably the biggest concerns revolved around the vulnerabilities in transition. A disjointed shape and lack of cohesion between midfielders and the backline enabled teams to create at will and frequently test Bernd Leno.
But under Arteta, the defensive structure and stability installed within the team has helped reduce the volume of chances. The key phrase to take is 'defensive stability without being a defensive team'. It's easy to nullify attacking threats by defending deep and having no intention to play football. But maintaining attacking principles and having a solid set up out of possession is a difficult balance to achieve; which Arteta has managed to find.
Typically, the Gunners defend in a 4-4-2 mid-block. Central compactness provided by the narrow midfielders and forwards force the opposition to go towards the flanks is an important advantage with this system and certainly, it's a set up that has provided the foundations for adequate centre back protection.

Pressing
Similarly, Arteta tends to instruct his men to press in a 4-4-2 when the opposition are within their own third, with the two central midfielders close to the forward players, ensuring that once passes are played through the most advanced line of press, they are in favourable positions to apply pressure.
What's worth mentioning is that Arteta doesn't constrain his team to one specific type of press. Dependent on the opposition, the Arsenal manager will set his team up accordingly to counter the opposing team's ability to build successful passages of play from deep. In the game against Leeds United at the Emirates, Arteta utilised a 3-4-1-2 set up to counter Leeds' ability to play through the lines. Shown below is the man orientated press. With no passing options available for Meslier, the young French keeper was forced to go long frequently. And when Leeds did opt to go for shorter passes, the midfield four behind the trio up top were aggressive and countlessly forced turnovers.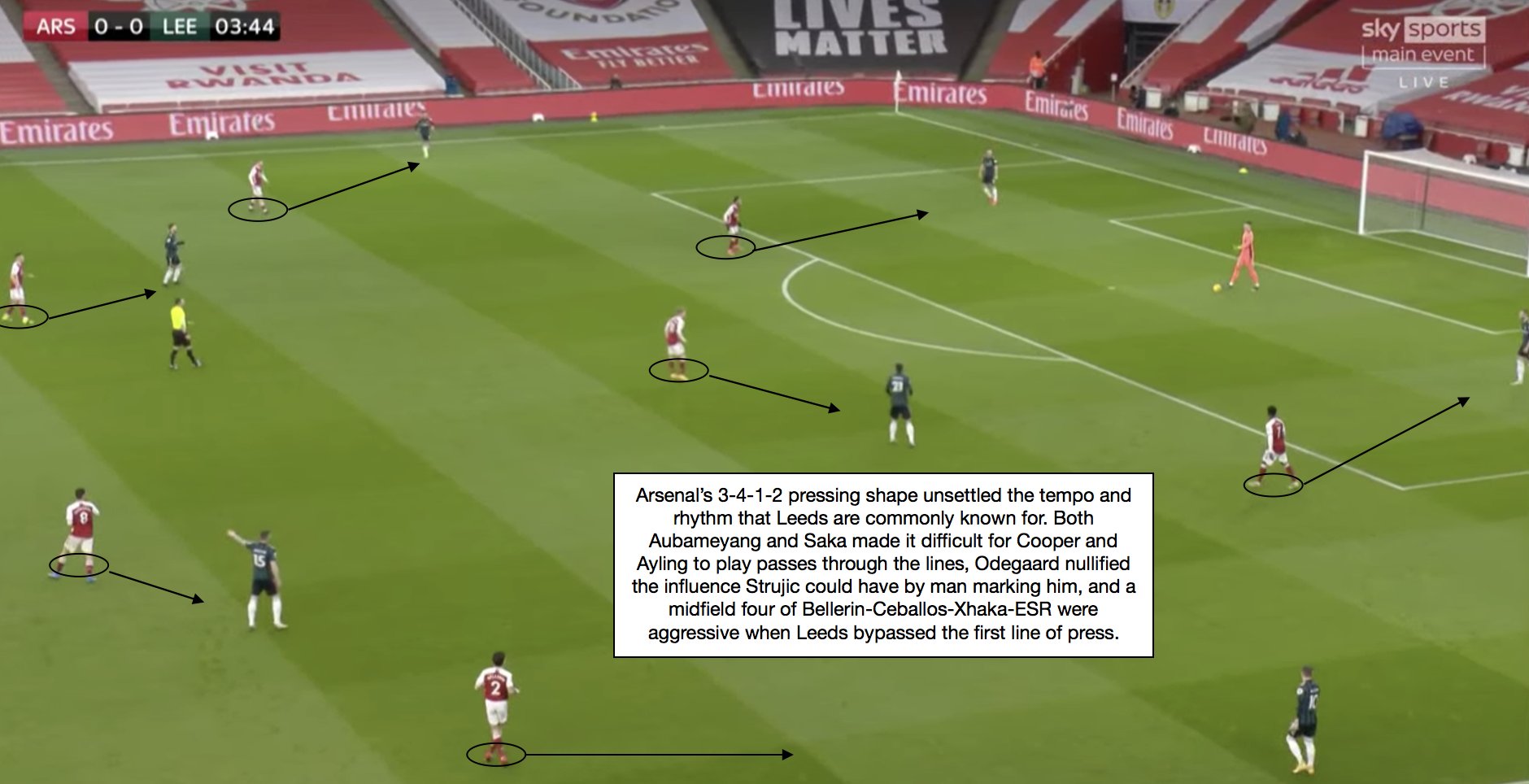 The key operator: Emile Smith Rowe
Tierney, Saka, Partey; three names that spring to mind when naming crucial first-team members. But the most integral player has been none other than Emile Smith Rowe. The Croydon De Bruyne promotes fluidity and has shown exactly why it's fundamental in having a tailored option between the lines. Lacazette, Willian and Willock; all haven't provided the desired impact when trialled as 10's this season. But Smith Rowe, however, has flourished. Off the ball movement, opening up passing lanes, final third productivity; the 20-year-old possesses all of these traits and the rise in performance levels from the front three has stemmed from the Hale End Graduate's inclusion into the eleven.
Not only this, but his effective third man runs, a footballing quality which Bielsa describes as 'impossible to defend against', has created havoc. His relationship with fellow Hale End Graduate Bukayo Saka has proved to be a lethal weapon and Arsenal's second goal against West Brom demonstrates this.
Patterns of play
In terms of patterns of play, the most noticeable one is the 'Kieren Tierney cut back'. As stated, whoever is occupying the left inside forward role, their job is to act as a creator and create space for the Scotsman. Once the 23-year-old receives the ball in a favourable area, on more occasions than not, he's able to accelerate past his man on the outside and whip in deliveries of the highest order.
Similarly, the right side overload has started to become a frequent feature in the Gunners' play. As shown in the diagram below, Odegaard attracts the two central midfielders, Saka's position draws Cresswell towards him which opens up space for Chambers to attack. The Norwegian's reverse pass is delivered perfectly and Dawson diverts Chambers' cross into his own net.
The threat through the right flank has increased considerably since Christmas. Previously under the hybrid 3-4-3, a lopsided 4-3-3 in possession biased towards the left-hand side hindered potency through the opposite flank. Whether it was Willian or Pepe, by the time they received the ball, at least 2 opposing players were frequently within touching distance to them, making it difficult for them to have a consistent influence.
But with the 4-2-3-1, the inclusion of a number 10 has provided greater balance, and with Partey's presence through the right side of central midfield, the right-back has been given more opportunities to overlap.
Progress
Creative outlets are integral for fluid attacking play and Mikel Arteta has been starved of options for large portions of the season. But finally, the Arsenal manager has two talented stars at his disposal. Odegaard's arrival in January has eased the burden that was placed on Emile Smith Rowe's shoulders and the Norwegian has settled in quickly. Referring back to the hybrid 3-4-3, having no options between the lines prevented the front three from regular service.
But since the 4-2-3-1 has been utilised, creativity has increased and overall performances have been more pleasing on the eye. And looking at the Premier League table since Christmas, progress is clearly apparent.
Final thoughts
Generally, it's been a very disappointing season for Arsenal so far and with the Gunners currently sitting 9th in the table, it certainly doesn't serve good reading for Arteta. However, when elements are broken down into their constituent parts, there are many aspects in Arsenal's game that should encourage fans. Patterns of play, clear build-up structure, defensive improvements; areas that Arteta has improved on since his arrival. But what does need to be considered is that the club's progression will be dictated on incomings and it's vital that the Spaniard can bring in further reinforcements that fit his profile.
Hope you enjoyed the read. Comment below and message me via my social media links in my bio. I've also started a YouTube channel and it would mean a lot to me if you check it out and subscribe.
23 years of age, 23 years as a Gooner. Arsenal runs through my veins and it pains me to see the current position and state of the club. Reading many football articles over the years has inspired me to write blogs containing Arsenal analysis. I've always wanted my fellow Gooners to be aware of my thoughts and opinions of 'The Arsenal' and thanks to Dave and Paul, I now have a platform which makes this possible.