Having let go of the former captain and their main striker Aubameyang in the winter, and failed to secure the signing of Dusan Vlahovic, Arsenal are paying for their mistake of going into the latter half of the season with no established backup striker.
It is clear that Arsenal need to sign a striker (or possibly two) in the summer.
In the winter, it was reported that other than Vlahovic, Arsenal were also interested in the likes of Jonathan David, Alexander Isak, and Dominic Calvert Lewin.
Another name that has been thrown into the mix more recently, alongside the Benfica star Darwin Nunez is Victor Osimhen, a Nigerian striker who currently plays for Napoli.
According to Italian outlets, he is one of Arsenal's striker targets and they are currently leading the race to sign him. So let's have a look at what kind of a player he is and how he would fit in at Arsenal.
(All the stats referred to in this article are from FBref)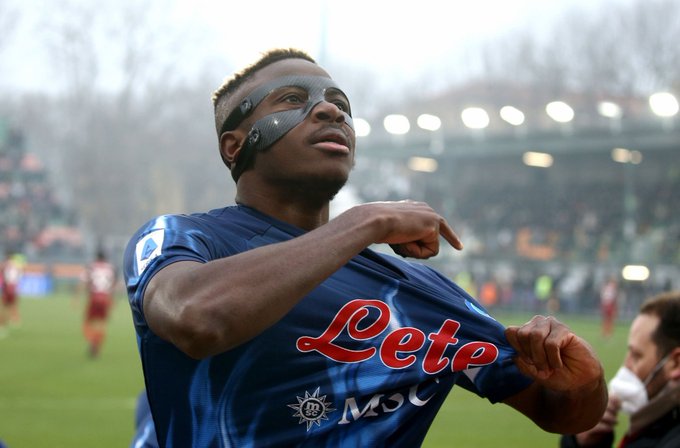 Osimhen's Profile
Position: FW(Central Striker)
Club: Napoli
Age: 23
Height: 186cm
Nationality: Nigeria
Strong foot: Right
Market value according to Transfermarkt: 60m€
Born and brought up in Nigeria, Osimhen started to play football at his local team in Lagos, but European clubs didn't leave him for too long.
Osimhen's impressive performances as a Nigerian youth international during the U-17 World Cup in 2015, caught the eyes of many European scouts, and he earned a move to Wolfsburg as soon as he became 18.
Initially he had a very difficult time in Germany, but the loan move to Charleroi in Belgium changed his career. He scored 12 goals in his 25 league appearances there and while Wolfsburg were still not convinced, Lille decided to take an advantage of the situation and he decided to move to the French League 1.
In his first year in France(Actually Osimhen played with Gabriel at Lille during that time), he scored 18 goals and Lille was proved right, but His step up didn't end there. After just one year in France, he moved to Napoli in the summer 2020. Lille bought Osimhen for 22m€ but they managed to make a big profit as his transfer fee skyrocketed to 75m€.
Last season, Osimhen scored 10 league goals in 24 league appearances and so far this season in Serie A, he has scored 12 goals and assisted 4 in 20 matches. He scored 4 goals in the Europa League, too, including ones against Leicester and Barcelona.
Osimhen's Playstyle
He shares many common traits with Arsenal's other striker targets. Osimhen is very good physically, tall and fast, and scores a lot of goals. According to Macro Football's Player Replacement Shortlist Generator, Osimhen is statistically similar to Vlahovic, Tammy Abraham and Lautaro Martinez.

In terms of stats there is a distinct trend in Arsenal's reported striker targets and what Arteta wants from his new striker seems quite clear.
He boasts a very good both goals per 90 and xG per 90, and at Napoli, they have their established penalty taker in Insinge and Osimhen almost never takes a penalty, so the goal tallies mentioned above do not include penalty goals. Of course, Arsenal could do with a good penalty taker as well but when anlysing a striker and predicting how they would fare in the premier league, if half the goals they score come from penalty, that's not usually a good sign.
Osimhen can dribble and carry the ball, but there is no doubt that he is most effective in the opposition box. At Napoli he takes many shots from central areas close to the opposition goal and it indicates that he is very good at running into those good chances. If Arsenal do get to sign him, Arteta needs to make sure Arsenal can deliver the ball to him in good positions because Osimhen's contribution in other area seems quite limited.
While his pressing and tackling number is decent, he makes very few passes during a game(this season he is averaging 14 passes per 90) and it doesn't look like he offers a lot to Arsenal's build up and ball progression although, he is still very young and in certain areas there might be room for improvement with right coaching.
How much will Osimhen cost and will he fit Arsenal?
Arsenal were ready to pay 80m€ for Vlahovic, it is fair to assume that the money Arsenal are willing to pay for their number one striker target is in the similar range.
Considering that Napoli paid 75m€ just last year, it seems unlikely that they will be willing to sell Osimhen for a cheaper price. In the past it was reported that Napoli were holding out for 100m€. I'm not entirely sure if Arsenal can afford to pay 100m€ for one player, but probably somewhere in the region of 80-100m€ will be required to persuade to Napoli to sell him.
In terms of adaptation to the premier league, he has an advantage of having the experience of playing in many different leagues and adapting to a new country and culture already. In a little similar way to Tomiyasu, even though Osimhen is still young, he has already played in top tier of Belgium, France and Italy. It has been a long time since he moved to Europe from his home country and perhaps he is used to being in a new environment. In theory the adaptation to the premier league would not be as difficult as it might be to some other players.
Osimhen has already played in the Champions league while at Lille and played 18 matches as a full Nigerian international.
He has a good physique and pace, so physicality of the premier league shouldn't be too big a concern.
However, the biggest concern might be his injury record.
He hasn't had any significantly serious injuries, however, in the past two seasons at Napoli, he has constantly missed 10-15 games a season through (different)injuries. There is a slight possibility that it gets worse if he starts to play at higher intensity in the premier league.
This reminds me a little of Tierney's situation at Celtic and maybe this is something Arsenal should take into account when they evaluate their potential options.
Arsenal fan and football journalist in Japan. Used to live in northern England. Very interested in football data analytics and gardening.