Much has and will continue to be written about Bukayo Saka and his exploits in the famous Arsenal shirt. A shirt, lest we forget, that he has worn since he was 7 years old. 2 seasons ago, after the disappointment of non-selection for the 2020 FA Cup win, still aged only 19, virtually singled handed, he carried his senior, 'more illustrious' colleagues. His form, in a disappointing season for his club, brought him England recognition and he shone, again amidst many more experienced internationals, in the Euro finals of 2021. Indeed, his form last season, after having to bounce back from the penalty miss disappointment and the unforgiveable subsequent cowardly racist abuse, is a testament not just to Bukayo Saka the footballer, but Bukayo Saka, the man.
Fast forward to the present day and Saka is now surrounded by new teammates, in a squad carefully assembled over recent transfer windows, all offering the same enthusiasm, work ethic, talent and a collective commitment to the Arsenal cause. This has enabled this humble young man, to raise his own bar and that of the team once more, and one feels there is undoubtedly more to come.
The elevated confidence and belief in the past few months, has been vital, in a time when the team has been deprived of its early season level raiser, in Gabriel Jesus. Saka and Odegaard, along with senior colleagues such as Xhaka, Partey and Zinchenko, have collectively picked up the Brazilian's baton and sprinted on with it, when they might have dropped it. – In truth, many thought they would.
As an individual, Saka – due to the clear and present danger he presents game in and game out – has been increasingly targeted by opposition managers in their tactics and defenders. This has varied from the complimentary tactic of doubling up on the effervescent winger, to the far more cynical physical and illegal measures we are witnessing more regularly. I do not have the stats at my fingertips, but I am sure the fouls on Saka are now at the levels we have seen on Jack Grealish in recent years. Like his England peer, Saka is learning to cope with the constant fouling and perhaps this is where the recent advice from Arsenal legend Thierry Henry stems, and will pay dividends for the player and our team.
It was in December that Henry was quoted as saying perhaps Saka was 'too nice' and he needed to add more aggression his game.  For the player Henry admires so much to turn into what he described as 'a killer threat' he cannot be so 'nice'. He concluded by saying after the West Ham match on Boxing Day, "That standard can't be nice. When you pass the line, it has to be you or the guy. It better be you and he (Saka) understands that now."
In recent weeks it seems that Saka has taken the constructive criticism on board, is not placidly accepting the continuous fouling, and is retaliating ion the best ways he can. This has been evidenced by him becoming more physical with the defenders, being less subtle with letting the referee know what is occurring and of course, being even more lethal in his role. The rapidly rising goals and assists tally will confirm that, and in my mind has earned him the right to his recently adopted goal celebration.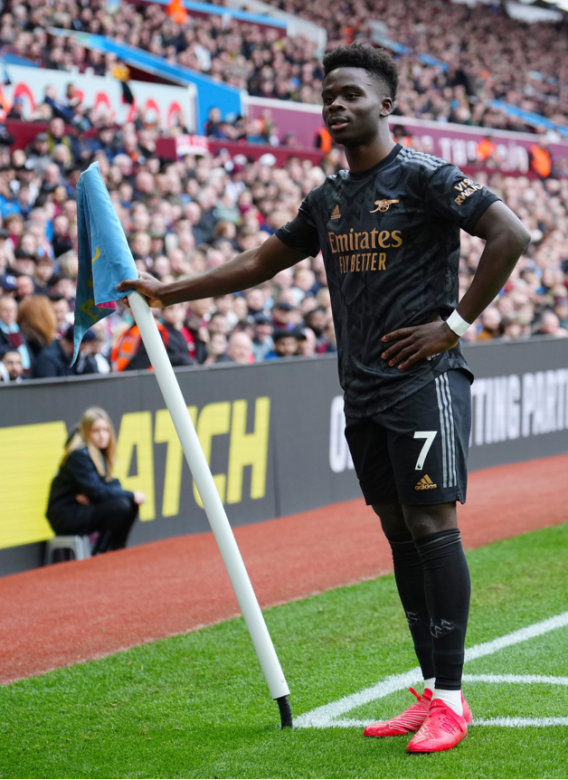 It might seem slightly out of character for a man, whose humility and modesty have endeared him to a far wider appreciation society than simply Gooners, to adopt Thierry Henry's trademark corner flag salute. However, even in doing so, for the first time at Villa Park, he took to social media to say he was 'Honouring the King'. I for one, agree with Arsenal's former No.14, that to go with talent, and a work ethic you probably do need a nasty streak and a touch of arrogance. Thierry's striking partner, Dennis Bergkamp also had the whole package.
If the extra grit and resilience are indeed the final ingredients to cement Saka's place among the elite, then perhaps gratitude is owed to Monsieur Henry – 'merci, mon legend'. However, we must remember whilst Henry was certainly the last King of Highbury, he was not the first. In my time supporting Arsenal, there has been George, Brady and Rocky, all three, like Bukayo were homegrown. We all hoped that Jack Wilshere, would be the next Hale End graduate, to grow from prince to king, but sadly that dream was never realised. Saka though, may humbly suggest his proud corner flag salute is a tribute to a former king, but are we actually witnessing the first ascension to a new Emirates throne?
Arise King Bukayo?
—
This article first appeared in my football fan column for The Sun. Reproduced here with kind permission.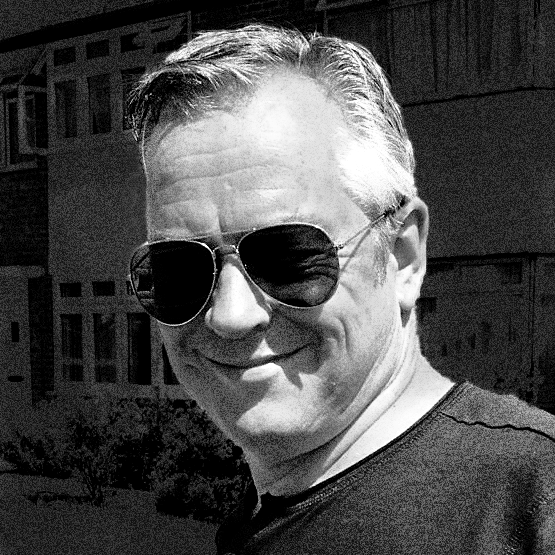 Passionate fifty-something Arsenal supporter who has been making the journey to N5 regularly since the early 1980s – although his first game was in 1976. Always passionate when talking about The Arsenal, Dave decided to send a guest blog to Gunnersphere in the summer of 2011 and has not stopped writing about the Gunners since.
He set up his own site – 1 Nil Down 2 One Up – in February 2012, which he moved on in 2016 to concentrate on freelance writing and building Gunners Town, which he launched with Paul in 2014.
The objective of GT was to be new and fresh and to give a platform for likeminded passionate Arsenal fans wishing to write about their team. Dave still of course, writes for the site himself and advises the ever-changing writing crew.