No Arsenal means no fun but also, to the relief of some, no stress. However, various players picking up problems while away performing for their countries does wreak havoc for the way you conduct yourself during this boring period of dull international football.
Sure it's great for the professionals themselves who have grown up dreaming of pulling on their nation's colours to do battle, but if you're more of a club football kind of guy, then the primary thought occupying your mind is that of 'please please please Jack don't get injured, and you Olivier, don't you be going and getting yourself hurt out there'.
There are of course the positives to couple the negatives, and we're never short for talking points: so here are my five Arsenal-related factors following the first part of the international break.
5. Mr. EDL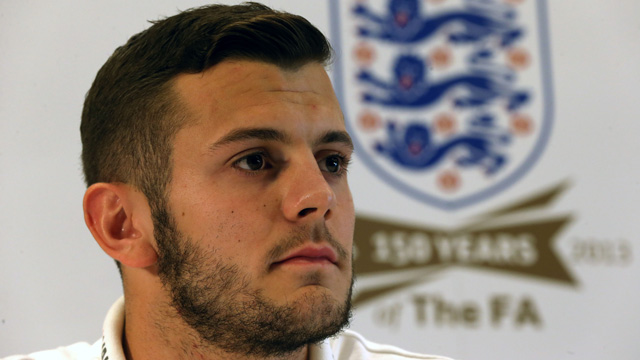 I start with the huge amount of controversy surrounding Jack Wilshere over the past week, and that's post fag-gate.
Wilshere became the subject of an international debate regarding representation, prompting arguments with the likes of Kevin Pietersen and Ian Wright as well as receiving the backing of Arsene Wenger and Roy Hodgson. All that started from a young Belgian-born midfielder getting Manchester United out of a sticky patch in the Premier League; amazing isn't it.
As for the Wilshere comments, I agree and disagree with him.
It's such a touchy issue, so kudos to him for having the balls to come out with an answer whatsoever, and I do agree with his points. However, he should have dropped the whole 'we tackle hard' mentality, because that brave bulldog approach is the reason why we have to watch utter turd every time the Three Lions take to Wembley. I could write a whole blog dedicated to that argument itself, but I'll leave my extended opinion at that.
4. Heroic Homecoming
What a brilliant night it was on Friday for Nicklas Bendtner. As you know, I've grown somewhat of a soft spot for him since the season begun, as he continues to strive for a better life following his epiphany; whether forced or not.
He put in a good showing at West Brom on both occasions that we travelled to the Hawthorns and has shown on Instagram that he is enjoying life after having a child and living abroad – it's changed him.
I was delighted to see the big man notch not once but twice on his return to the national set up. You could see how much those two headers meant to him as well.
His upward spiral continues, and maybe he can soon be considered as an option worthy of helping out Giroud.
3. OOOH La La
On the topic of Big Ollie, he was back in the goals once more against Australia last week and, like Bendtner, came away with a brace.
Goals and the French national team has been a rare combination since the turn of the year, but they've now scored 10 goals in their last two outings – and even Karim Benzema found the back of the net! Seriously. I shit you not.
Giroud took both his goals very well. One was a simple 'right place, right time' tap in that was a result of his great movement, while the other was a wonderful lob.
Good to see the handsome devil keep his run going, and it can only be a good thing heading into Norwich at the weekend.
2. Koz the…Crocked
What isn't great news however is the problem suffered by Laurent Koscielny last week during training.
The Boss picked up an unwanted calf strain and was forced out of practise, before missing Friday night's game altogether.
Les Bleus boss Didier Deschamps insisted that the injury wasn't serious, so let's bloody hope that he is telling the truth.
I've done various research on calf strains which told me that there are certain types of grading for the issue; ranging from a week out to several months. Hopefully, and I think it will be, closer to the former, but either way it's horrible news to hear that one of our best players is crocked. I'm sure Wenger was delighted.
1. Road to Recovery
For me, the best part about the international break is its timing.
God knows that Arsenal needed a rest given our amount of injuries, but the time off has allowed us to stick to the head of the Premier League table and provide an opportunity for our walking wounded to mount a recovery.
Theo Walcott, Bacary Sagna, Santi Cazorla, Lukas Podolski, Alex Oxlade-Chamberlain and Yaya Sanogo are all closing in on a return to the first-team picture and the majority of them will back for Norwich – fingers crossed that is.
It's amazing to think that we've done as well as we have so far this season and that it's all been achieved without our best player from last year. Imagine the damage we can cause when Santi is back in action. Scary .
That's all from me this week, keep those fingers crossed that our injury problems improve and, no matter where you're from, get behind your country.
But, never forget that you're a Gooner.
Matt Cotton
Follow @FindingCotton

Matt has been the editor of the site since June 2012 and was born into a Gooner family 21 years ago. He recently graduated from Southampton Solent University with a degree in Sports Journalism and strives to work in the Sports Media industry. As well as currently working as a reporter for Sports Mole and TIBS News, Matt has been providing football commentary for the visually impaired since 2008 at Arsenal, Exeter City and Wembley.
&nbsp
His earliest Gunners memory is watching the 'Boring, boring Arsenal' VHS as a six-year-old on repeat, to the extent where he could recite most of the commentary from that season. Matt was lucky enough to witness Arsenal lift the Premier League in 2002 as well as being present during the last match at Highbury in 2006, and at Dennis Bergkamp's testimonial a few months later at the Emirates Stadium. Matt's favourite players include Bergkamp, Thierry Henry and Tony Adams, with the 5-3 comeback victory against Middlesbrough in 2004 the best match he has ever spectated.
&nbsp
Matt is an optimistic 'In Wenger we trust', kind of guy and believes that the glory days are not too far away…
&nbsp
Apart from his editorial duties, Matt will also be bringing his Arsenal knowledge to a column called "Where Are They Now?" – which focuses on former Gunners.
---
!function(d,s,id){var js,fjs=d.getElementsByTagName(s)[0];if(!d.getElementById(id)){js=d.createElement(s);js.id=id;js.src="//platform.twitter.com/widgets.js";fjs.parentNode.insertBefore(js,fjs);}}(document,"script","twitter-wjs");