Another win, another home clean sheet. I think I can get used to that. Pity the season is almost over, we've just about found our groove.
West Brom didn't do us any favours at the Etihad, so Man City are basically out of reach. There are five goals between the teams, so we'll need to thrash Everton while City lose away to Watford to top Pep's men. It looks very unlikely.
We'll have to pin our hopes on Boro then. Even shakier ground than London Olympic stadium to build your Champions League hopes on, but beggars can't be choosers. At least we are still in the race after deservedly beating Sunderland on a rainy night at the Emirates.
Let's get to the nuts and bolts of it.
Impressive attacking display
Our dominance wasn't so telling from the stands (and that's where I watched the game from), however the numbers speak for themselves.
Arsenal had 63% of the ball, took 17 corners and had 36 attempts with 13 on target. These 36 shots is the most for the Gunners in a league game since 2003. However it is the 13 shots on target that matter, as we only got two goals from those, failing to improve our goal difference to required standard.
It happened so because Jordan Pickford was arguably the best player on the pitch, making 11 saves. Sunderland's №13 established his own personal best in the league this season in doing so. It was a monumental effort from the young Englishman, and one after which I hope the rumours linking us to him are true.
Alexis steals the spotlight, but Ozil masterminded this win
Just when it looked like we were not getting more than a point from the game, Alexis reminded of his presence. With 18 minutes of normal time remaining he tapped in Ozil's cutback from a yard out. Nine minutes later the Chilean finished the job by pouncing on a rebound from Giroud's shot.
This brace takes Alexis' league tally to 23 goals – just one behind top scorer Romelu Lukaku. Throw in the 10 assists and our №7 had a hand in 33 goals of the 75 we scored, amounting to 44%. Such a contribution is akin to Van Persie's in his last season.
It once again highlights the importance of holding onto Sanchez. He is the one to make a difference in tight games more often than not. We do not really have players such as this. Players with Alexis' willpower and ability.
However it should not be forgotten how much Alexis thrives with Ozil feeding him. Yesterday Mesut was sublime, creating 12 chances – the most for a Premier League player in one game since records began. Only one was eventually an assist, something the German can rightfully blame his teammates for.
He looks to have returned to his majestic best, albeit it's a shame the resurrection happened so late. While I remain convinced Ozil is only as good as the team around him, or, in simple terms, he isn't the one to bail us out of a crap performance, his output is invaluable. He can fly under the radar sometimes when on the field, but as soon as he walks off, we are in trouble. No one in this team comes close to picking up the slack in the creative department to an extent required for the team to function properly.
I sincerely hope we can find the right words, cash amounts and/or puppies to persuade our top two players to stay.
Xhaka shines again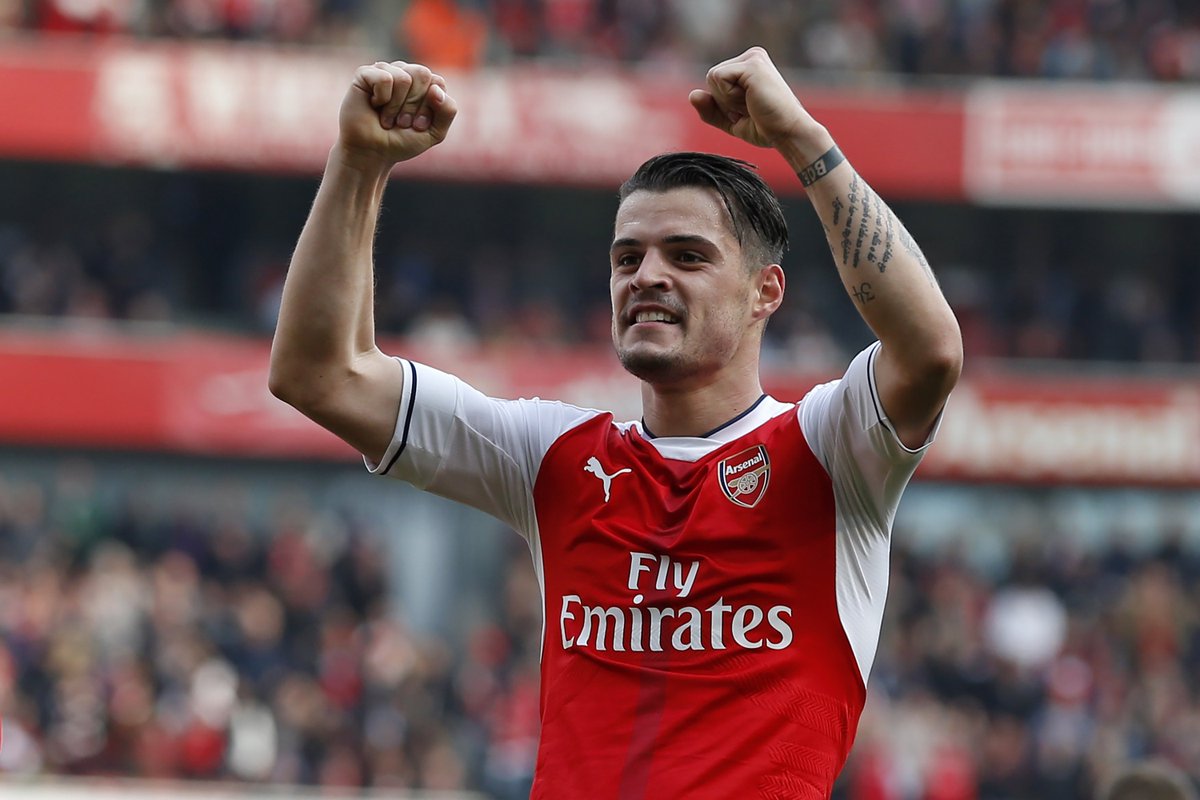 I was pretty sure we'd see a bit more rotation for this game, but I was wrong. Arsene made just two changes: Gibbs for Koscielny (the Frenchman didn't even make the bench owing to injury) and Ramsey for Coquelin.
The Frenchman seems to have settled on this midfield partnership as his first choice, and he has reason to: both players looks comfortable in their respective roles. I've documented Ramsey's resurgence in the last two games; meanwhile Xhaka eluded my attention to an extent.
Granit reminded us of his quality again – which was often overlooked by pundits in pursuit of a 'better' narrative of the Swiss' discipline. Personally, I've always looked on it as a storm in a teacup: while somewhat lacking in the defensive area, Xhaka is neither violent nor devoid of admirable attributes.
He was sent off twice by the same ref for fouls which the officials would have turned a blind eye on had Xhaka's 'reputation' not preceded him. I've seem lots of other players get off with a booking or nothing at all for similar or even worse fouls. So I'm not inclined to buy into the narrative of the Swiss' violence and short fuse.
When I look at Xhaka I see a sublime distributor. He is not without his flaws, yes, but these have been overplayed disproportionately, while his good qualities are hardly ever mentioned. It is those qualities which were on show yesterday.
Granit was again a midfield metronome, completing 88 of his 96 attempted passes and creating as many open play chances as Mesut Ozil (6). His passing range was excellent once more, and he gets a pre-assist for the exquisite pass which left Ozil with a task of squaring the ball to Sanchez for a tap-in.
Whatever plan the manager might have in mind for the next season, I'm sure Xhaka will be central to it, and deservedly so.
The last word
The win keeps our momentum going and it's always a good thing. Regardless of whether we get the top four or not I'd much rather go into the cup final on the back of five consecutive wins and a couple of clean sheets.
We kept our chances for Champions League football alive, however, and that's the most important thing for the time being. There's always room for chance on the pitch, so I'll keep my fingers crossed luck will be on our side come Sunday.
Until then, and have a great week.
Russian Gooner. No, it's not always cold in my home country 🙂
A staunch Arsenal supporter since 2004. Started writing about the Gunners in 2013.
Currently in London to get a degree in journalism.