I believe top four could be back
Yes. the thing we were locked for and got pissed off with getting every year is now back on our radar.
Irony aside, there are several reasons why I'm feeling more confident this year.
We are:
Addressing long-standing faults
Our midfield balance is changing. Torreira's signing brings a new dimension, with a mix of both tenacity and guile that we've lacked for years.
Moreover, the overall shape of our midfield seems to be based on strength, pace, and power, then technicality. Wilshere's departure, and the new signings, has shown this.
If we can press better in this area, and not be as exposed, then it will go a long way.
The defence also has been bolstered, with Papastathopolous, Lichsteiner, and Leno incoming.
The shape of our squad overall has shifted from the latter Wenger years, and this alone is encouraging.
Competitors are not in strong places
Spurs have their new ground, but then their team is pretty much settled. They need top end players to win things (which they hilariously haven't of late…well ten years..not of late..) And there's little way they will spend £100m on a top player, which they need to compete for the league and CL.
The new ground also hampers them, due to evident financial restrictions.
So keeping Kane for them is good, as would be Alli. However, they may need to sell Alderweirld and/or Rose, to finance a real big money top signing.
So with this weakness, we can exploit it. Our issues of late have been tactical and structural, which we're addressing. Plus we have top players who will grow next season, like PEA, Lacazette, etc. There is no prize, bar pride/bragging rights, for finishing above Spurs. But I believe we can for the reasons stated.
Chelsea have problems too, as Abramovich is getting less eager to spend money. Their new stadium plans have been halted, and they are not in the high end for players anymore.
They still have top talent, though there is talk that Hazard may leave, and if Belgium win the World Cup, he will be a prime asset. Higuain joining will be a boon, but then they need more. Sarri has joined as the new manager, however they need some restructuring, despite some high praise of their new manager from our old boy Mr. Fabregas.
Tottenham will have to wait a few years until their new stadium brings in big revenues to spend on the players they need to win serious trophies. Chelsea need a new spine, manager, and possibly owner, to compete again. Our issues have been policy-based (in transfers) and team-based, of which we're steadily correcting. Our revenues and infrastructure are fine.
Liverpool will be a different package, as will United. City are the team to beat, of course, and it's wild to say we'll improve enough to win the league. But then England as I write are in the WC semis, and who really thought that would happen? Anything can happen in life.
But Spurs and Chelsea should be worried. We're getting our act together, and we're a bigger contender for top four than before now. Or at least in the last couple of seasons.
Emery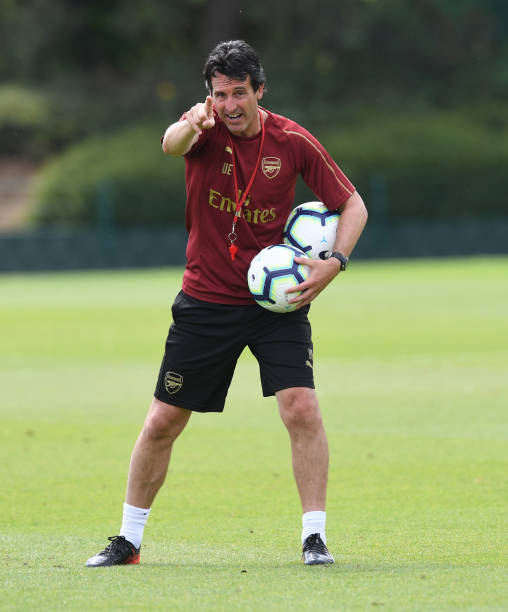 Emery's skills as a manager are what we need. Wenger was a great man and a manager for us. But then we needed in his latter years a manager with greater meticulousness, and attention to detail.
Emery brings this, and the signings we've made thus far show the direction we're heading in.
In some ways, he is the anti-Wenger. Our away form was bad due to poor tactical shape. The hope is that this will improve in the coming season. And if we can get more away points, our hope for top four is surely enhanced.
There are pretty valid reasons to be excited, about the coming season.
Existing top players
We have some world class players, and many good players:
– Ozil
– PEA
– Lacazette
– Mkhitaryan
– Ramsey
– Lichtsteiner
– Torreira 
These are things to build on, and we can progress with a new and better direction.
Aubameyang is prime to compete for the Golden Boot, so this is another factor to look forward to.
I think fourth place is available, though at this point, I would say it can look like thus:
City
Liverpool
Man U
Arsenal
Tottenham
Chelsea
The transfer window is still open, but then I think we can improve this season.
Catalyst for change? We shall see. However, things ARE changing, that's apparent enough.
MarbleHallsTV is an Arsenal social media account on Twitter, Facebook and Youtube. Been a Gooner since the 90s, inspired by Ian Wright, then Bergkamp, Vieira, Henry, Pires, Campbell, Rosicky, Koscielny, Ozil and Sanchez. A digital marketer/entrpreneur by profession, born in UK living in the Americas now.