Gabriel Ballon d'Or Martinelli. OKAY, Hear me out. Gabriel Martinelli is not a traditional winger. And he isn't (yet) a proper striker. What is he then, you ask? He is the same profile as Madrid years Cristiano Ronaldo. CR7 in those years wasn't a pure winger, but he always started out on the left. He wasn't a dribbler (even tho he could dabble), nor a creator (even tho he racked up assists), however he was a goalscorer of lethal potential. One of – if not the best the world has ever seen. That's exactly what Martinelli is right now. He is an inside forward just like peak CR7. These players require a well-crafted environment around them to excel. And when put them in these environments, they turn into monsters.
Auba under Emery and early Arteta was in a similar situation. Even Alexis Sanchez. These players are usually your team's best finishers and you must create situations where the move ends with them taking shots on the opposition goal. And funnily enough we are close to having that kind of environment around Gabi. The first thing you need is a complete and selfless striker. Someone who is very capable of dropping deep, turning on the trot and rotating out wide. But the main virtue required here is selflessness.
A striker who is happy to let someone else in the team be the main man. A striker who is not greedy. Thats exactly what Benzema was to Ronaldo and in Jesus we have an extremely similar player and personality.
The next thing you need is a creator on the other side of the pitch. The orchestrator. The one who can draw attention to himself before quickly exploiting the smallest of gaps. This guy is usually the right-hand-man to our superstar attacker. He loves to assist (shy personality).
Cristiano's partners-in-crime came in the form of Di Maria, Ozil, Bale, Ascensio, etc. Left-footed right-wingers who loved to cut inside and create (apart from Bale). Fortunately we have a world class operator there already. An unstoppable force, a chance creation machine, a ball retention guru, a half space maniac. A T5 Ballon d'Or level player. The star and heartbeat of our team, Bukayo frigging Saka. We couldn't have asked for anything more than that. We are blessed.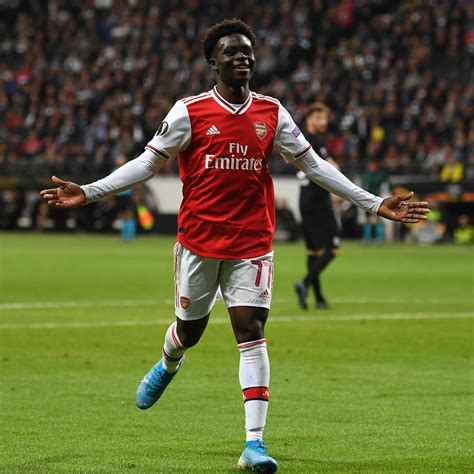 Now the final piece of the puzzle is what we currently don't have: a LHS dynamic to distract the opposition; Madrid had Marcelo & we have Tierney but our game dynamics stop us from using a wing back. However it's not the player or position thats important here, its the dynamics What we need is someone from our 1st- and 2nd-phase units to rotate with Martinelli and also be able to hold down the wing on their own. Someone who can move, distract, dribble and create on the touchline when required. It doesn't have to be a LB. We already see this multiple times every game: Zinny and Xhaka recieving on the touchline while Martinelli inverts. But none of the above have the required skillset to do what we need. In the most simplest of language, what we need is to take attention away from Martinelli.
The next evolution of this team is directly linked to Gabi Martinelli and our left sided 8. We need someone comfortable to operate in the half space, rotate out wide, act as a pseudo winger and is super smart. These are just the attacking requirements. This player must also have a good engine and be above average in duels since a roaming Martinelli and an Inverted Zinchenko means we will be our most vulnerable down that side to opposition counter attacks. Xhaka ticks the defensive boxes but leaves a lot to desire in the attacking ones. This leaves us heavily reliant on the RHS to break down low blocks and stunts our ceiling as a team. I know everybody and their families love Saka and I do too. But to achieve our highest potential as a team we'll have to make Gabi Martinelli our new King.
Jog your memory and think about how many super teams in the history of football were lead into battle by their primary creator. Very few. KDB at City is probably the only one that springs to mind. Now ofc that is in the realms of possibility but everybody loves a goalscoring hero and most superteams are led by one of those. And these heroes almost always have a creator as their partner in crime. Ronaldo – Ozil/Di Maria/Benzema, Henry – Bergkamp, Salah – Firmino/Mane, Sanchez – Ozil, Lewandowski – Muller, Aguero – Silva, etc etc.
We need that dynamic to form between Martinelli and Saka & that's what we should be building towards. How though? Recruit from Europe if need be but we have in house solutions already. Martin Ødegaard is a viable candidate for our LCM role, so is Fabio Vieira. Among our young generation I could see Nwaneri in that role, maybe Lewis Skelly but he has much more impact in the centre of the field driving from deep instead of recieving BTL. Patino is kinda similar to Xhaka too. These are half 8s half 6s, we need a half 8 half 10. Lucas Paqueta is someone I could see excelling in that role. Aoaur too. Enzo Le Fee, Alex Scott, Emile Smith Rowe are all good shouts. But before dipping into the market I'd love to give Ø/Fabio/ESR a go there next season especially with the security of Rice behind them.
This is my vision of how we can have a Ballon d'Or level output from one of our very own. A vision that I believe can go down as one of the best teams in the history of football.
Performance | Recruitment | Data Analyst.
Working in football for the past 2 years. Gunner through and through.
About to start an MSc in Sports Performance Analysis in Sept/Oct 2022