Our German number 10 Mesut Ozil made some interesting comments in The Athletic lately.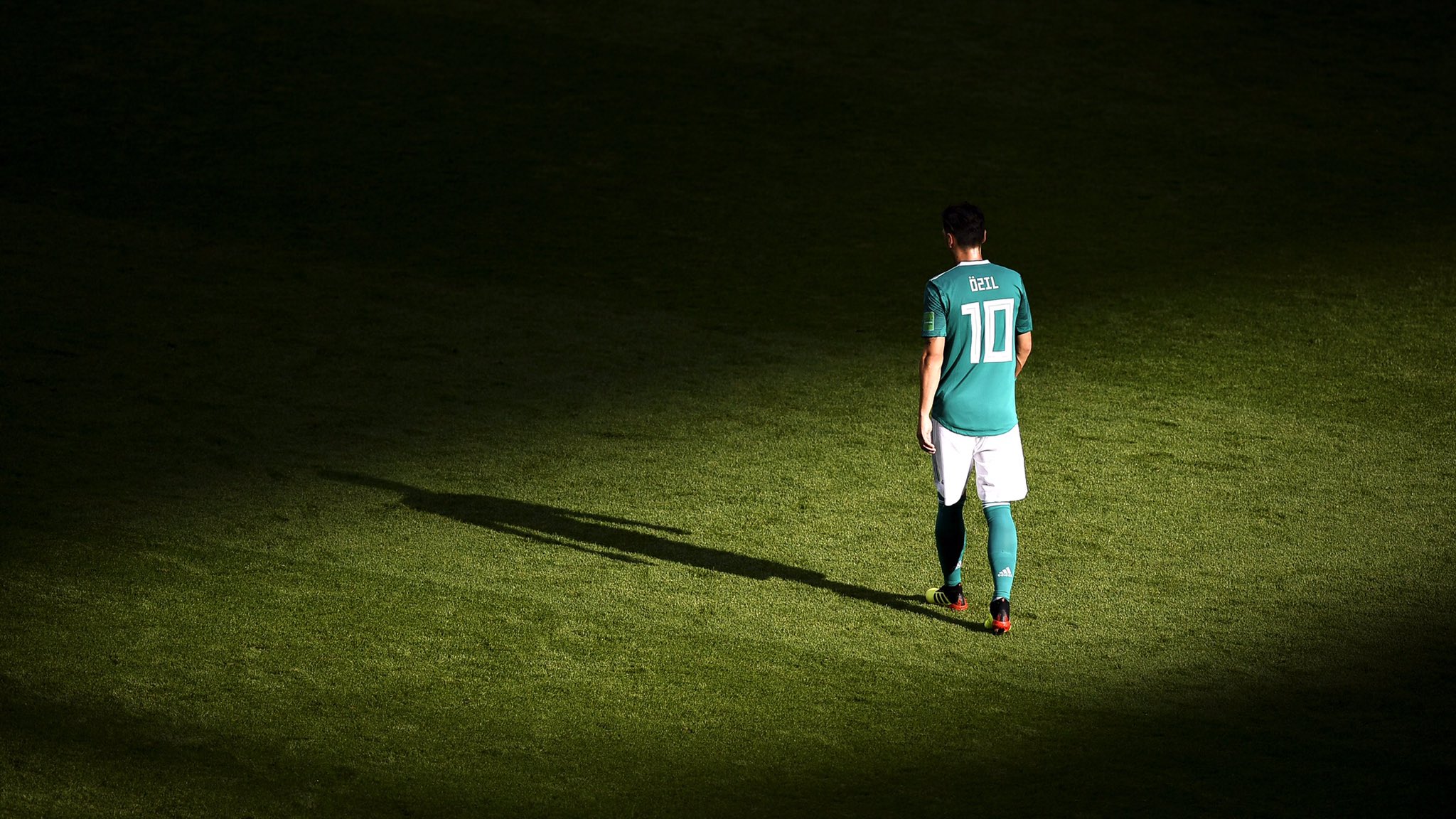 Whilst interviewed by prominent football journalist David Ornstein, he stated that he isn't going to leave this summer, and wants to stay at Arsenal.
He also said that he won't be made a scapegoat and that he had reservations over the club's short-term finances. This, along with two undisclosed players, is why he refused a pay cut in this COVID-induced environment.
The interview, and Ozi's "fightback" as it were, has added more weight to Ozi's time at Arsenal and more to the point his current place in the side.
He hasn't featured much lately, and whilst he congratulated the side in our Wembley win on Twitter, he didn't offer a #yagunnersya in person to the teammates. This was more than Guendouzi did, incidentally.
I would say though that Ozil needs to go, and perhaps the criticism goes too far.
Caveat
I don't think Ozil offers as much as he can now.
And with the £300k pw remuneration, and our current financial woes, we need to move on and part ways. I'd be happy if he left now, in truth.
But despite this, I feel he does need to be caught some slack. I don't think he has much to offer us anymore, but he doesn't warrant scorn or vitriol.
Remuneration
Ozi's alleged wage is very high in both PL and world terms.
But then it's not his fault that he receives this.
The club is ultimately to blame for this.
We had lost Alexis in the Jan 2018 window, and given the fan ire towards Wenger, Gazidis, and KSE, we had to keep a top star.
I believe Ozil knew this too – he's not stupid and he should as a player know the environment. Yes, we got in Auba in that window. But then the club had to reverse the rhetoric of selling our best players due to unambitious actions.
So the club did what it felt it had too, and Ozil accepted the deal.
This isn't Ozil's fault though – he didn't and couldn't have forced us to do this. No employee can do this to an employer, ordinarily.
The club messed up in 2017 summer, when it could have sold Alexis to Man City, got in Lemar as a replacement and possibly Auba too, who knows? I don't have a parallel universe machine, but then with Auba, Laca, Lemar, and Kolasinac in that window, who knows what we could have done? We may have finished sixth again, or got top four, or won a trophy, or Wenger may still have done enough to buy him another few seasons as our manager. We'll never know for sure.
Though Ozil's role in his high remuneration isn't his fault and is another facet of a decade of bad decisions at Arsenal.
There also is the issue with the wage cuts. He notedly, along with two other players, declined to do it. However, from what we can see, he had reasonable reservations on this. It's unfair that his name was leaked, whilst two of the others haven't been.
Mesut had a moral obligation, possibly. But not a legal one – and note he didn't categorically state that he didn't want to assist.
Why should Ozil go?
From his angle, why should Ozil go?
The club cannot sack him. They can pay him off, but then given how tight our finances are, this is unlikely. It's not legal in England and Wales to fire people for no reason, and for this to happen Ozil would have to commit a serious crime or commit gross misconduct. The only players whom I can recall were sacked by clubs were Mutu at Chelsea and Johnson at Sunderland. Ozil hasn't done drugs like Mutu, nor any egregious assaults like Johnson.
He is under no legal, and perhaps moral, obligation to leave. Even if his salary is hindering the club on and off the pitch.
Note Mesut has a settled home near Hampstead in London, married a Turkish model a few years ago, and has a new baby to boot. He's settled and seemingly happy, and possibly the off the field annoyances are secondary to him.
So why should he go? He's earning enough to keep him and his family secure for life. This includes his relatives in Germany and perhaps in his ancestral home of Turkey.
And if I were earning his money, I'd have a literal home cinema room dedicated to playing video games – considering he is the seasoned Fortnite player that many claim him to be. And why not? He's a human, and we all have hobbies.
Vitriol
I'm not one of Ozil's biggest fans, I'll admit. He was world-class in his time, but then has dipped over the past couple of years.
There also aren't many number tens in prominent teams, and thus the position isn't required as much as a decade ago. Liverpool has no number ten in the classic sense, and neither does City. Firmino is a false nine who provides the attacking/midfield link, and de Bruyne as a free-range final third player does the same.
Ozil's time as a top-level player, and a player of influence at Arsenal, is long-done, and we need to call it quits.
But then some of the vitriol he has received from fans online and offline is excessive and vile, in my honest view.
Yes, critique his contributions. But then it doesn't warrant scathing or continual mockery.
Moreover, Mesut has achieved a lot. He was stellar at Real Madrid, arguably the biggest club in the world, and with names like Ronaldo. He was the most expensive German player ever when we signed him. And he won the WC with "The Team" in Brazil – notably they beat Brazil so badly en-route that our current CB "stalwart" broke down in tears post-match.
He also has won trophies with Arsenal – and helped us in various ways get four FA Cups. Some attribute his arrival to this, but correlation isn't causation. However, he did score some goals en route to the 2014 final, including vs. Everton in the quarter-final.
So whilst he has dipped, he's had a great career, and should be respected for that. Let's not forget that GOATs like Ronaldo and Messi have never won the World Cup. Messi hasn't even won Copa America let alone the World Cup.
Foreign affairs
Ozil came under flak for airing the Chinese government's treatment of the Uighur Muslims, a minority ethnic group in the PRC.
Ozil like anybody else is entitled to his opinion – however, a fine line has to be trodden here. Mesut is evidently Muslim and would feel an affinity with the Uighurs
China is no liberal democracy, and the state/President Xi controls much of the media. This also includes businesses that could be prime partners for Arsenal, and as a global club, this is something we need to factor in. China also is a growing football market, and could usurp South Korea and Japan as the football leaders of East Asia soon.
If this report is true, then Ozil felt unsupported by Arsenal for his condemnation of the Uighurs' treatment.
Should money trump morals?
It can be argued that the club shouldn't comment on political matters overseas, as it's a business. Businesses do have to be mindful of causes and attitudes they support – the Chick-Fil-A matter in the USA a few years ago was a prime point, as is contemporary cancel culture. But if the PRC is less Arsenal-friendly, then it could be more Man United, Chelsea, Liverpool. Real Madrid, Barca, Bayern, Juve, or PSG-friendly. There are others who would come in our stead, and with our comparatively lesser finances in recent years, I can get why the club didn't support him.
As a rule, I don't think businesses should support political or social topics, unless it's in the public interest. Hence why many firms were/are supporting Black Lives Matter. Firms are about making money primarily, and supporting poltical/social matters can push customers away. It may seem callous, but then it's understandable.
Ozil's time at Arsenal isn't what he hoped it would be in 2013. We all were excited at him joining. However, things haven't turned out as planned, but he is a player who has had a good career for himself, and maybe the club needs to find an amicable split in this context.
MarbleHallsTV is an Arsenal social media account on Twitter, Facebook and Youtube. Been a Gooner since the 90s, inspired by Ian Wright, then Bergkamp, Vieira, Henry, Pires, Campbell, Rosicky, Koscielny, Ozil and Sanchez. A digital marketer/entrpreneur by profession, born in UK living in the Americas now.