Another article on rotation you say? Well Why not, it is after all the hottest topic of them all. Dont put player A against player B and create a toxic community.

18 league games in 15 available weeks with added Europa League games. 3 games in 7 days are just ahead of us starting today (Saturday). Do we need to be smart about rotation here or do we just go hell for leather and decide game by game?
You might recall back in the Europa League group stage that we used a calculated rotation setup? No player played 3 games on the trot to avoid the red zone. The A players took turns playing in the Europa League. Im pretty certain that this type of thinking is in Artetas mind.
The feeling is that we have been the team that has used the least amount of players with a meaningful minutes total this league campaign. And although that is what usually is needed to have chemistry and to be succesful it has long been irking me that we seem to freeze out our B players to the point they cant perform when called upon. It happened last season IMO. When we needed Tavares and Lokonga they were cold. We persisted with Laca up front for far too long not even knowing what animal we had sitting on the bench. If we never play Vieira or give him more than 10 minutes at the end how can we expect him to develop into that player we all hope he will be? Maybe he'll surprise you and score the winning goal against City.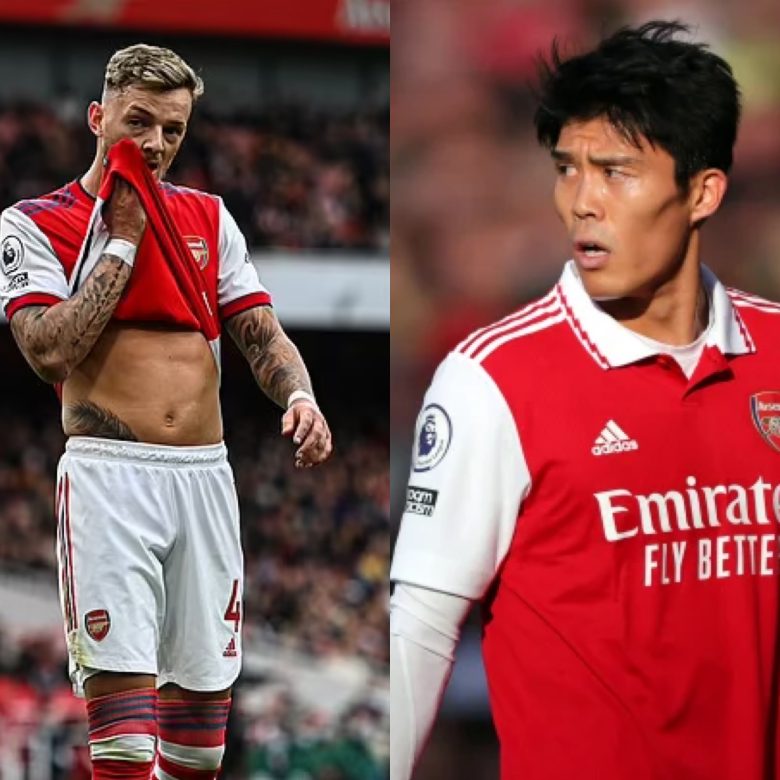 The debate right now is if White should take a few games off for Tomiyasu, and Martinelli for Trossard, after some below par performances by the talented duo? The debate is almost black and white. If you want to bench White and Martinelli you dont like them and you dont stand by the players in adversity.
But isnt it so important to keep everyone involved? We are in a title fight nobody predicted, how do you think Vieira, Sambi, Tierney, Holding and Tomiyasu felt in the first half of the season missing out on the exitement of match days? How do you think Nketiah felt before Jesus got injured? You never know when you are gonna need them so its our responsibility to manage them accordingly. You have to show the squad that if the person in front of you has a bad patch and you are training well and performing well when given the opportunities you will get your chance. Its nothing personal against the player, its just how competition works.
Ask yourself, can Partey play 3 games in 7 days? Can Zinchenko do that? Should we risk red zoning our only RW and CF options in Saka and Nketiah? I can go on.
Is it possible to go strong every game but rotate every time? How would that look? And remember, we can make 5 substitutions. If we are gonna rest Partey somewhere, it shouldnt be against City or away to Villa IMO so should we trust Jorginho at the Emirates? After their impressive outings at the Etihad can we give Trossard and Tomiyasu starts against City at home? Can we play Trossard as a false 9 against Villa? Can Vieira and Nelson help Saka not play over 65 minutes in any of these 3 games? I think they all can.
Wasnt it this exact reason we bought Trossard, Jorginho and Kiwior in January? Senior players with plenty of top flight experience who can come in and not make us worse. We cant get nervous everytime we have to call on them.
I for one hope we rotate over these 3 games. Not only for fitness but also to keep everyone involved. We have Europa League coming up and we cant just put out our reserves without minutes in their legs and expect us to go through in that competition. But also, if we rotate now, when the games matter, and we win, imagine the morale the team will feel when the whole group feels connected and strong.
Together we are stronger!
Hello! Im a 39 year old family man from Sweden, born in Gothenburg, living in Stockholm. Why Arsenal? I was 11 years old and didnt have a PL team yet, but was a big fan of the Dutch national team with Dennis Bergkamp up front. So when he joined us in 95' it was a easy choice which team I wanted to support. It only felt better when success quickly followed and Freddie Ljungberg came in. My first and only live game was the Palace game at the Emirates when Giroud scored that scorpion kick goal. My biggest regret will forever be that I never got to visit Highbury. Most of my friends through life have been Man Utd or Liverpool fans but I have always been proud to be a Arsenal supporter. We are more than a club, with values I live by, and watching this Arteta revolution fills me with great joy. This beautiful club deserves to be at the top. Lets talk Arsenal!