The goalkeeping situation at Arsenal is an interesting topic. Bernd Leno has been the undisputed number one for three years and when considering the north Londoners acquired his services for £19 million back in 2018, he's been good value for money and certainly one of the better keepers the Gunners have had since the departure of Jens Lehmann.
The German international frequently illustrated his ability to perform as a high volume shot-stopper, particularly when Unai Emery was at the helm.
Under the former Gunners manager, Arsenal's goal was under siege with bucket loads of shots, forcing Leno into making saves regularly, and quite often, the 29-year-old excelled in bailing his team out of jail.
Leno's problems however surfaced under Mikel Arteta's stewardship. Whilst the Spaniard has received his fair share of criticism from pundits, ex-players and fans, there's no denying that the former Arsenal captain has implemented a successful defensive structure, which has reduced the frequency of shots on goal.
It's therefore imperative that the goalkeeper is capable of maintaining concentration levels over the course of 90 minutes – an aspect which Leno fails to provide.
In games where the former Bayern Leverkusen man has had minimal involvement, Leno has had the tendency to switch off and make poor mistakes when called into action, with his blunder against Everton at the Emirates last season a clear example to illustrate this.
But the major flaw within the 6 ft 3 in keepers game is the lack of decisiveness he shows in possession.
In order to build passages of play out from the back and progress through the thirds efficiently, individuals must be competent on the ball, something which Leno doesn't offer.
The German struggles with the ball at his feet, often putting teammates under severe pressure with the type of passes he plays along with frequently taking too long to release the ball.
This has been a significant worry for Gooners across the globe and clearly one that both Arteta and technical director Edu recognised.
To solve this glaring issue, Arsenal explored the market and identified a solution, which came in the form of 23-year-old Aaron Ramsdale.
Signed for a fee believed to be in the region of £24 million, the former Sheffield United man came with a hefty price tag and a significant amount of expectation.
But with three games now under his belt, one of which was a man of the match display against Burnley, it's fair to say that the England U21 international has started life in Arsenal colours with a bang.
A key operator in build up
Assessing Ramsdale's qualities on the ball during his time for Sheffield United is difficult because of the style of football the Blades deployed.
In order for a more accurate assessment to be given, Arsenal analysed his Bournemouth days, since former Cherries manager Eddie Howe advocated free-flowing possession-based football.
Clearly, the Arsenal recruitment team were encouraged by his performances and in the three games he's featured in for his new club, Ramsdale has provided brilliant distribution.
Whether it's a threaded ball delivered between the lines or a longer pass drilled into the channels, the Stoke born keeper can eliminate an opposition press in multiple ways, giving Arteta plenty of tactical flexibility in the way his team can build passages of play out from the back.
Whilst the array of skills Ramsdale possesses in possession is impressive, proactiveness is arguably his biggest strength and this is certainly a fundamental requirement.
Currently, the Arsenal manager insists on his side to operate with a more aggressive mindset out of possession.
In order for this to work, the team must squeeze together as a collective unit, which results in the backline occupying advanced positions upfield. It's therefore imperative that the goalkeeper can act as a 'sweeper keeper', and this is a role Ramsdale is capable of playing, with the frame below demonstrating the composure he shows outside of his area.
A commanding presence
In the Premier League, goalkeepers must be confident in dealing with set-pieces against physical opposition, and when considering Ramsdale's presence, he certainly doesn't struggle in this facet.
Standing at 6 ft 2 in, the former Bournemouth number 1 flourishes when crosses are delivered into the box, regardless of whether it's open play deliveries or through set-pieces.
Ramsdale demonstrated his prowess in this regard yesterday with two excellent claims from corners, which ensured all pressure was relieved from the defence, thereby allowing the team to reset.
Statistically, Ramsdale's ability to mitigate the threat of crosses is supported. Arsenal's new number 32 stops 9.5% of crosses per 90 minutes, ranking him in the 87th percentile, which eclipses Leno's numbers, with the German denying just 7.8% of crosses on average.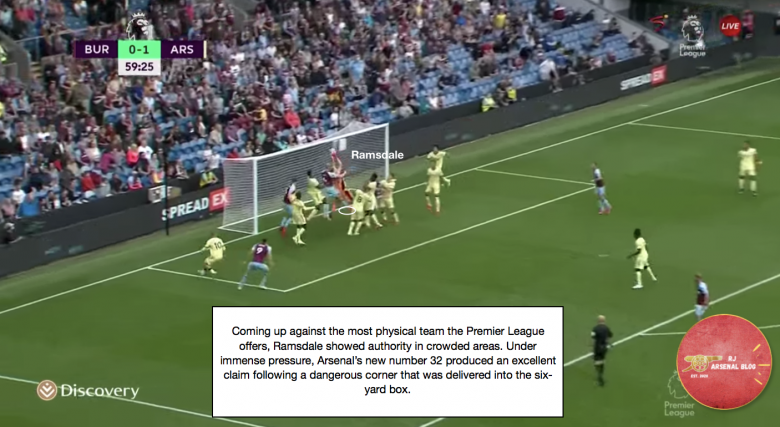 Shot stopping
Despite greater emphasis being placed on progressive qualities, shot-stopping still holds significant importance.
It's worth mentioning that Ramsdale isn't placed in the top end of the spectrum in this aspect but when compared to Leno, he produces similar numbers.
On average, Ramsdale saves 71.7% of the shots he faces, placing him in the 77th percentile when compared to keepers across Europe. Comparatively, Leno denies just 66.7% of shots per game.
Final thoughts
Initially, the signing of Ramsdale was heavily criticised by fans, including myself and no doubt it's still early days.
But when analysing his situation deeper, Ramsdale is 23 years of age, has 2 years of Premier League experience already under his belt and suits the modern game perfectly.
On paper his acquisition makes sense and although the price tag is significant, there is growing optimism that he could have a very successful career in N5.
Hope you enjoyed the read! Please comment below as I'm intrigued to know your thoughts.
25-year-old Gooner who loves talking and writing about football